Listings by Mattie
Maryland

Mattie
0
Emily's Desserts: We sought out to make a difference; the idea behind Emily's Desserts™ is great tasting vegan friendly treats that appeal to the meat eater and vegetarian/vegan alike. We are tired of cookies, muffins and brownies that taste like they were manufactured by the thousand and taste like plain old cardboard. At Emily's Desserts™ every sweet treat is made with the same love and attention as when your mother made you desserts, so in other words we are old school. We believe that a cookie isn't a cookie unless it is misshapen and a little lumpy. We do not sacrifice perfect looks for perfect taste and that's the beauty of Emily's Desserts™. We are passionate about what we do and want you the customer to have the best tasting dessert every time.
Wholesome Bakery: After endless hours of baking we are proud to offer you healthy baked goods that actually taste GREAT. Every product we offer is Wheat Free, Low Glycemic, Soy Free, High Fiber, A Source of Protein, Contains Only Healthy Fats, Yeast Free, Cholesterol Free & Trans Fat Free. Not to mention, they're entirely Vegan allowing anyone and everyone to enjoy them.
Black Sheep Bakery: We at Black Sheep Bakery make vegan baked goods that anyone would be thrilled to eat. Our goal is to offer foods that bring everyone to the table. We incorporate as many organic and local ingredients as we can while maintaining the value you've grown to know. Making believers out of skeptics since 2000.
Pennsylvania

Mattie
0
Sweet Freedom Bakery: Not only are our products vegan (dairy-free, casein-free, egg-free) and gluten-free, but we avoid the use of corn, wheat, peanuts, and soy as well. The only sweeteners we will ever use are the most natural and unrefined of sugars that are gentler on your body. Rest assured that we also avoid the use of toxic chemical sweeteners and other highly processed sugars and preservatives at all times. We at Sweet Freedom bakery have made it our mission to provide the best tasting allergen-friendly treats that even those without allergies will love!
Allison's Gourmet: Allison's Gourmet offers you delectable sweets that are free of animal ingredients, cholesterol*, and anything resembling tofu! We invite you to compare Allison's Gourmet goodies to any others you have enjoyed (vegan or otherwise) and taste the difference premium-quality organic ingredients, expertise, and loving care can make.
Divvies Bakery: The Sandler family envisioned homemade fun-foods that the whole family, and their friends could enjoy. These foods would be made without peanuts, tree nuts, eggs or milk and despite all those left-out ingredients, these treats would be delicious. They would be so good, in fact, everyone (with or without food allergies) would ask to share them.

Now, Divvies fun-foods are available to share with families and friends across the country. Divvies cookies, popcorns, and cupcakes are made in the company's-own dedicated facility where no peanuts, tree nuts, eggs or milk enter the doors. Divvies candies, frosting, and sprinkles are certified by their manufacturers to be peanut-, tree nut-, milk-, and egg-free and are packaged in Divvies Bakery. Divvies conducts routine testing to minimize the risk of any cross-contamination in their certified allergen-free ingredients.
Electric Blue Baking and Catering: Anita Sharp of Electric Blue goes the extra mile to provide affordable, healthy, vegan catering and baked goods with a personal touch. Her food is prepared from scratch, with all-natural, whole ingredients--no refined sugar, bleached flour or preservatives. Most menu items are low-fat, with an emphasis on fresh, seasonal fruits and vegetables.

Upon request, gluten-free, soy-free or raw vegan menus are available. Her goal is to bring you a lovingly-prepared, good-for-you meal of superior taste and quality that will keep you coming back for more.
Back To Eden Bakery Boutique: At Back to Eden Bakery Boutique you will find an array of treats free of all animal ingredients. We will have an ever-changing menu of cakes, cookies, muffins, scones, pies, tarts and sweet breads using nearly all organic ingredients as well as local ingredients whenever possible!
Colorado

Mattie
0
Beat Box: We are a full-scale vegan bakery. We make breads and brownies, croissants and cupcakes. If you'd like a dozen cookies to give as gift, a platter of assorted Danishes for your next meeting, or a birthday cake, we'd be happy to bake it for you—and bring it to you.
Eco Bella Bakery: Eco Bella Bakery was created out of a need for vegan baked goods that were not found  at local restaurants.  Everytime Jeaninne and Lyn would go out for dinner, Jeaninne would not be able to have any desserts.  So it was decided that Jeaninne was going to make her own desserts.  After much experimenting and food tasting by Lyn, Eco Bella was born on October 23rd 2007.
BabyCakes LA: In a city dominated by cupcakes overflowing with sugar, flour and butter cream, it's easy for those with persnickety diets to feel left out. BabyCakes offers all-natural, organic and delicious alternatives free from the common allergens: wheat, gluten, dairy, casein and eggs. Rest assured, all sweeteners have been chosen responsibly and used sparingly. White sugar will never be found in our bakery, nor will we ever use toxic chemical sweeteners. Instead, most products are sweetened with agave nectar—a natural syrup from a cactus which is low on the glycemia index and often a safe alternative to most non-insulin dependant diabetics. Occasionally, unprocessed and unrefined sugar is used in certain goods, although sparingly.
Vegan Hearth Bread Recipes

Mattie
1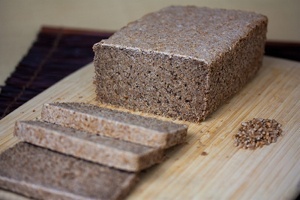 This Sprouted Wild Yeasted Whole Wheat Bread recipe is a nod to how the first breads probably got their start. Wheat berries were probably softened with water, ground and left out in the elements where they were then populated by airborne yeasts and bacteria, causing the dough to rise slightly. Placing this dough on hot rocks in or near a fire probably resulted in a fine vegan treat like nothing else available at the time.
Vegan Topping Recipes

Mattie
2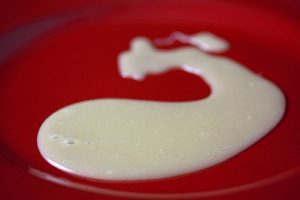 This smooth Vegan White Chocolate Ganache recipe uses cocoa butter without the cocoa solids making it a versatile white and creamy vegan topping for cakes, truffles or fillings. Unlike margarine or butter, cocoa butter and coconut oils melt rapidly when they reach their melting point instead of softening slowly. Due to this, extra care must be taken as it resolidifies from it's melting temperature of 93F (34C) to 100F (38C). You can adjust the firmness by adding or subtracting 1 Tablespoon of water. Also feel free to substitute 1 teaspoon to 1 Tablespoon of liqueur or other flavoring extract to further customize your ganache.
Vegan Baking Guides

Mattie
0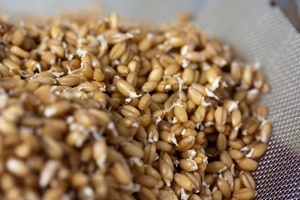 I have an obsession with sprouting grains and legumes. I think it's related to my obsession of inviting nature take its sweet time to process your raw ingredients in it's own special way. Sprouting instead of cooking has many advantages if you have the roughly three days to spare. Supplanting puréed sprouted grains for some or all of your flour is also a great way to make
hearty breads
.