Listings by Mattie
Vegan Butter Recipes

Mattie
7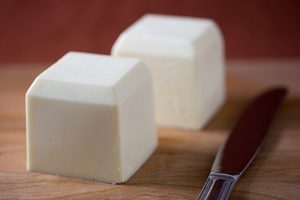 The more I learn about pastry, the more I realize that European pastry is on a completely different level compared to classic American pastry. My impression is that European pastry is all about introducing flavor depth through manipulating eggs, butter and technique.
Croissants
,
strudel
and danish pastries come to mind. American pastry, on the other hand, tends to build off bold flavors with a strong sugar backbone accentuated by spices.
Apple pie
,
cupcakes
and
cookies
come to mind here.
In the quest to become an adept baker, it's important to draw from as many influences as possible. One trick that many American style bakers use to improve flavor depth is taking a cue from European bakers by using cultured European style butter.
How does American style butter differ from European style butter? Let's take a look.
Vegan Baking Guides

Mattie
0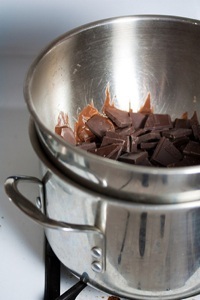 My love affair with chocolate comes from many things: The smell of rich cocoa that fills your nostrils upon opening a box of chocolate; the numerous shapes and sizes and the way the light reflects off their glossy angles; the fillings that lurk within certain chocolates, waiting to be discovered; the snap when you bite into it, sending a shockwave throughout your mouth that signifies that the rush of chocolate flavor has been unleashed to your senses. This telltale snap is like a magician quickly withdrawing a velvet cloak, exposing the magic below.
Fascinated by this experience, long ago I set out to make my own chocolate
chocolate bonbons
with good quality store bought baking chocolate. I'd melt the chocolate and use it to coat some fillings and everything would be great. I could pack them up for Mom and she would be astounded when she learned that I had done this all myself.
There was only one little problem though.
Vegan Granola Recipes

Mattie
5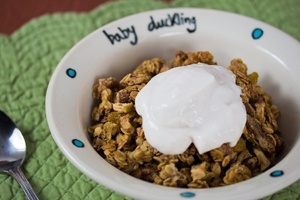 This Vegan Apple Pecan Granola recipe brings on the apple flavor with the help of both apple chunks and apple sauce. Cashew butter forms its base and packs extra protein so you'll have sustained energy throughout your morning. I go low on the sugar for this same reason and to give the other ingredients a chance to contribute flavor. Nutmeg, allspice and cinnamon work to highlight the apple. Chopped pecans toast during baking and add a welcome nutty crunch. Once you've
chosen your preferred apples
and baked this granola to perfection you can add it to ice cream, splash it on non-dairy milk or top it with a dollop of non-dairy yogurt.
Vegan Baking Guides

Mattie
1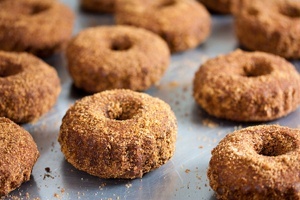 Polish your whisks, restock your vanilla extract, proof your yeast, pre-sift your flour, sharpen your vegan butter knives and mise your place because
Vegan Baking Day
is almost here! Vegan Baking Day is a day to promote how awesome vegan desserts are and have fun doing it. Vegan desserts are still regarded as sub-par in many circles. Vegan Baking Day is all about changing that! Remember those delectible lemon bars you've been meaning to bring to work? you know, the ones that people say you should sell because they're so good? Bake 'em and share 'em! Vegan Baking Day is the day to share your little piece of heaven with your co-workers, friends, lovers, insurance adjusters, dog walkers, enemies and cohorts.
How it Works
Where are you going to be on October 1st? Wherever you are, bring along your favorite homemade vegan baked eats and place them in a communal area to share with anyone who happens to notice. Happen to be at the DMV? A picnic? A houseparty? Just another dreary day at work? These are perfect places to share your eats with the unsuspecting world. Better yet, team up with a few people, set up a table and give out vegan treats to the public at the location of your choice. Let's spread tasty vegan eats worldwide!
When you share your favorite vegan awesomeness with whoever you happen to be around during the 1st of October you accomplish two things:
1) You promote the fact that vegan baked goods are awesome.
2) You have fun. When was the last time someone hated on you for sharing your homemade treats? Everyone wins!
We Need Your Help
We need your help to help spread the vegan baking love as much as possible! If you happen to know any vegan bakers beside yourself who are interested in promoting veganism through
baketevism
, please let them know about Vegan Baking Day, follow
@veganbakingday
on Twitter and and Like the
Vegan Baking Day Facebook Fan Page
.
So what are you planning on baking for Vegan Baking Day and where do you plan to celebrate it?
Vegan Butter Recipes

Mattie
3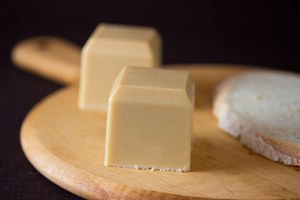 Several years ago, one of my favorite restaurants,
Millennium,
in San Francisco had a particular bread spread they would serve with fresh bread, just as you were seated. This particular spread wasn't buttery, but it had a particular creamy buttery
oomph
that actually made it taste better than butter when it was slathered on your crusty slice. And since it obviously wasn't butter, you could spread on even more without getting funny looks from your Mom across the table. You could run out of it and confidently ask for more, again and again! Then one day they switched over to a fava bean-based spread that was sadly sub par and the bread spread I loved oh so much mysteriously disappeared from existence. This savory bread spread made a lasting impression on me and I knew that one day I would rise to the challenge and create my own rich version.
Vegan Icing and Glaze Recipes

Mattie
0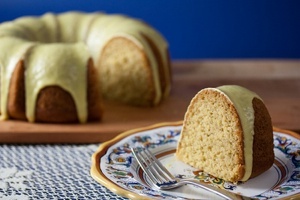 Vegan Orange Icing is perfect for doughnuts, cookies or cakes such as
Rosemary Olive Oil Semolina Cake
. It features fresh orange juice that lends a bright burst of flavor, coconut oil to allow it to solidify properly and a touch of vanilla extract for depth of flavor.
Vegan Granola Recipes

Mattie
8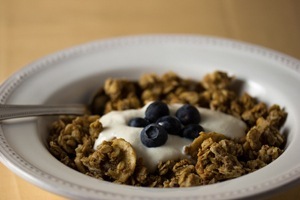 I've designed this Vegan Banana Walnut Granola recipe to be considerably under-sweet so it can be relied upon for a nourishing breakfast that will deliver sustained energy. If you prefer your granola more on the sweet side, increase the sugar by 2 to 4 Tablespoons.
As the granola is toasted, the heat brings out the full potential of rich banana-enhancing notes from the cashew butter, banana chips and walnuts. As bananas ripen, their starches convert to fructose which makes them sweeter and more suitable for baking. In fact, whenever you plan on baking with banana I advise you to always use over-ripe bananas. I usually transfer these over-ripe bananas to a plastic freezer bag and store them in the freezer. When I have enough saved up I use them in things like
Banana Bread
,
Banana Walnut Pancakes
and this granola.
Vegan Shortening Recipes

Mattie
9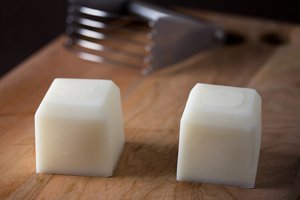 As I progress in my vegan baking adventures I strive for quality ingredients that give me as much control as possible over the flavors and textures I'm trying to convey. I also love breaking foods down to their most basic components and building them back up again, learning and getting unnecessarily excited along the way. For some people it's TV. For me it's this sort of food hacking.
I recently decided that I wanted to create a high quality vegan butter because I began to tire of the store bought
yellow goop
that I was so steadily relying on. What if I don't want all that diacetyl flavoring, beta carotene coloring, palm oil and who knows what else? My vegan butter experimentation ended up
being more successful than I imagined
. What if I made my own shortening?
Vegan Sauce Recipes

Mattie
1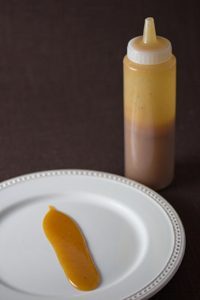 I love caramel because it's the closest thing there is to food alchemy. Ok, maybe chocolate is close to this too but caramel involves a few basic non-exotic ingredients and
a simple process
. The end result is something that's truly extraordinary and more than the sum of it's parts. One of the great things about caramel is how you can just swap in certain fats and sugars to create caramels with amazing layers of flavors. The more I experiment with working with caramel this way, the more surprised I am.
I've found that building rich vegan caramel flavors (and increasingly, most other vegan baking flavor building applications) works really well when there's a small amount of unrefined coconut oil supplanting the regular fats. Unrefined coconut oil has naturally occurring compounds that mimic some of the flavors of dairy. As I developed this method further I found that a good rule is to use about 10% to 20% of the total fat consisting of coconut oil for optimum flavor. I've been using this in my latest caramels combined with vegan creams or non-dairy milk with great results. Bananas also have some of the flavor compounds found in dairy. What if I combined coconut and banana to use instead of a vegan cream and incorporated it into a caramel?
In this Vegan Banana Caramel recipe, the vegan cream is swapped out for banana purée and unrefined coconut oil. It's the most simple caramel I've ever prepared and one of the most seductive. The banana, coconut and caramel combine to make something truly special. You should be able to reduce the banana and coconut oil slightly to get a more firm caramel if you prefer. I recommend using a squeeze bottle with the top cut slightly bigger than normal for convenient application.
This is the perfect caramel for anything from
apple pie
,
vanilla ice cream
or any other dessert you want to bring to the next level.
Vegan Granola Recipes

Mattie
5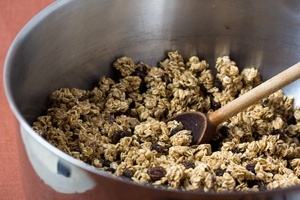 Making this Easy Vegan Granola recipe is only slightly harder and much more fun than scooping it out of the bulk bins at the local health food store. It features almond butter for its base, rolled oats, cinnamon and nutmeg and just the right amount of walnuts and pecans to round out the crunch. A touch of raisins add a welcoming sweetness.
I prefer to not overload with sugar in the morning so my granola recipes tend to err on the side of reduced sweetness which is a contrast from most store-bought granola. If you like your granola sweet then you may consider adding a few Tablespoons additional sugar. The reduced sweetness allows other flavor nuances to come through. The almond butter toasts during baking which brings on a rich flavor. A small amount of unrefined coconut oil increases flavor complexity further. Use this granola recipe as a base for future granola recipes. Enjoy it with non-dairy milk, top it with non-dairy yogurt or crumble it over ice cream.
Vegan Cookie Recipes

Mattie
0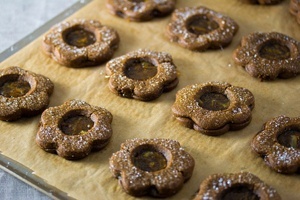 I'm a huge fan of linzer cookies which are sandwich cookies featuring an almond pastry crust sandwiching a tart raspberry jam center. I'm also a huge fan of gingerbread paired with orange. The tart orange pairs well with the spicy, bright flavors of ginger. These Vegan Gingerbread Marmalade Sandwich Cookies were borne out of a desire to combine the best qualities of these cookie styles, featuring a cookie that also delivers a crispy exterior, giving way to a chewy, jam layered center.
Since this recipe features gingerbread, it relies on placing the dough in the refrigerator between steps to ensure the dough is stiff and easy to work with. It's worth clearing space in your freezer for two baking sheets before you start. I recommend using small cookie cutters for these cookies because the dough will spread out considerably during baking, making the cookies larger. I ended up using a small flower cookie cutter and an apple corer to cut the center holes. Adding about 4 drops of orange extract to the marmalade will ensure it has enough strength to stand up against and optimally pair with the gingerbread.
Other Vegan Cooking Recipes

Mattie
4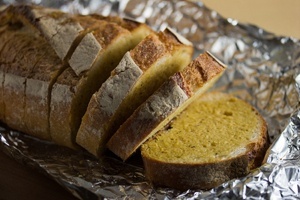 This Vegan Garlic Tarragon Bread Spread recipe features extra virgin olive oil, onion, garlic, fresh tarragon and just a touch of white wine vinegar to evoke a complex buttery flavor with a sharp cheese inspired finish.
Holiday dinners at my Godparent's house was always a special occasion. The food was inspirational but the the one dish that my brother and I looked forward to all year was the simple but perfect implementation of garlic bread. This consisted of a store-bought flute of San Francisco sourdough, sliced but leaving the bottom crust intact so the slices could be torn off as the loaf worked its way around the table. This loaf was buttered between the slices, wrapped in tin foil and warmed in the oven. Buttering the slices while leaving the loaf intact had the advantage of ensuring both sides of each slice was buttered. Wrapping the loaf in tin foil had the benefit of allowing the entire loaf to be saturated with buttery aromas and flavors during its time in the oven and the tin foil could be folded back over the loaf in between servings to keep the bread warm while it was on the table. Brilliant!
Vegan Yeasted Enriched Bread Recipes

Mattie
4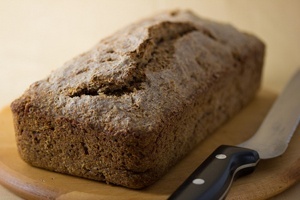 Traditional flour is ground endosperm powder which is the result of the flour mill removing most of the hard pieces and hence, nutrition from the wheat berry. I'm a huge fan of whole sprouted grains because they're more flavorful and contain significantly more nutrients than bread made with traditional flour. This Flourless Sprouted Whole Wheat Bread recipe utilizes sprouted wheat berries that are then ground into a purée. This requires a substantially hardy food processor. If you're not sure if your food processor is powerful enough, look on the bottom. It should say at least 6.5 Amps or "6.5 A".
This bread was difficult to design due to the nature of the wheat berry. This hardy seed contains the germ which is the heart and soul of the seed. The germ is the embryo of the plant in its dormant state. It's accompanied by the starchy endosperm which acts as fuel for the germ when it sprouts or
germinates
. This package is encased in a firm fibrous shell called the bran. This protects the seed kind of like an egg shell protects an egg.
Vegan Cheesecake Recipes

Mattie
3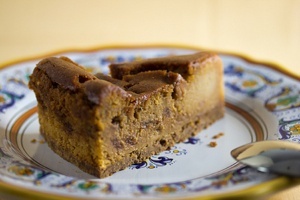 For those difficult times when you can't decide whether to make a
vegan apple pie
or a
cheesecake
, do both! This Vegan Caramel Apple Cheesecake recipe utilizes soy yogurt that is left with pureed almond and non-dairy milk for up to 24 hours so the
Lactobacillus
cultures in the yogurt can enhance the flavors of the mixture. In order for this to work as effectively as possible it's important to use unsweetened non-dairy soy yogurt containing
Lactobacillus
and with as little additives and thickeners as possible.
Lactobacillus
cultures are bacteria that ferment sugars in the food and produce complex flavors and acids such as lactic acid.
Other Vegan Baking Recipes

Mattie
2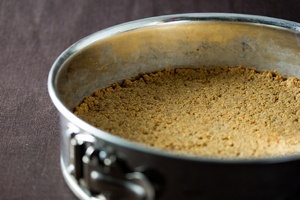 Vegan crusts are the foundation of many desserts so it's important to treat them seriously. When making a crust for a springform pan, it's important to have options that pair nicely with your dessert. One example is that you'd want to use a gluten-free crust with a gluten-free cheesecake. Regular cheesecakes go great with a graham cracker crust recipe but what if you're not going the traditional route? That
Vegan Apple Caramel Cheesecake
might be better paired with a ginger snap cookie crust or a walnut crust. What if you're doing something entirely different from a cheesecake or maybe you have a gluten intolerance? Maybe you want to take it to the next level and make a
Vegan Chocolate Mouse
with a hazelnut crust! Now you can do almost any type of spring form crust if you have access to dry cookies or nuts based on the recipe below.