Listings by Mattie
Vegan Pastry Recipes

Mattie
2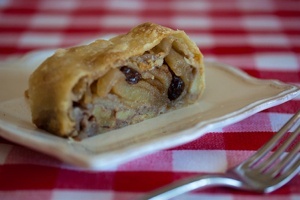 Strudel is one of those treats that everyone loves. If I met someone who was anti-strudel I'd back away if I were you. Strudel has origins in Austria and Hungary dating back to the late seventeenth century. Traditional Austrian strudel is not made with phyllo dough or puff pastry but with a thin dough with a high gluten content that gives it elasticity. Traditionally, strudel can be filled with cherries, apples, spinach, sauerkraut or cheese. This Vegan Apple Strudel recipe features apples picked fresh from an apple orchard in Pennsylvania and is enhanced with rum, raisins, cinnamon, nutmeg and allspice.
Vegan Topping Recipes

Mattie
2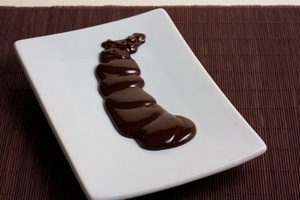 Although not as smooth and creamy as
Dark Velvet Ganache
, this Easy Vegan Ganache recipe is still great when you need vegan ganache in a pinch. Ganache can be a very versatile base for a recipe. It can be adapted to anything from frostings to truffles to fillings. Just adjust the non-dairy milk in this recipe plus or minus up to 2 Tablespoons to get the thickness that suits your needs. For example: 2 more Tablespoons non-dairy milk will make this ganache solidify into a soft frosting-like consistency at room temperature. ½ cup of non-dairy milk yields ganache that is perfect for
vegan cakes
. You can even customize it further with things like Grand Marnier, Chambord, espresso or mint extract.
Vegan Baking Guides

Mattie
1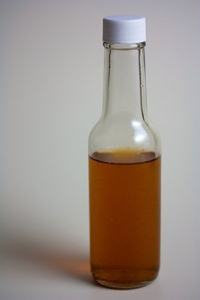 In these trying times purchasing baking ingredients to sustain your sweet tooth/hobby can add up. Many of us have more time than funds these days so it can be fun to discover the art producing things we take for granted. This is the heart of what DIY culture is all about. It's fascinating to create, learn and save some dough in the process.
Lately I took that approach to making homemade vanilla extract and was able to create a one that was comparable to high end extract for slightly more than half the cost.
Vegan Spread Recipes

Mattie
4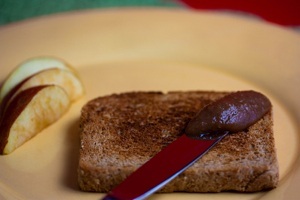 Apple butter varies from apple sauce in that apple sauce is just puréed apples with some spice and sweetener optionally added. Apple butter has a bit of a cult following because it more accurately captures the essence of the apple. It consists of a spiced apple sauce that's cooked down for several hours so the sugars caramelize, preserving the mixture in the process. Cooking the mixture also produces more complex flavor compounds, activates naturally occurring pectin so it gels and reduces it so it's more concentrated. The result is rich, creamy apple heaven. Fall apple perfection captured in a jar. You can make a large batch from this recipe and can it for future use or spread it immediately on toast, pancakes or use for anything where you would use fruit preserves.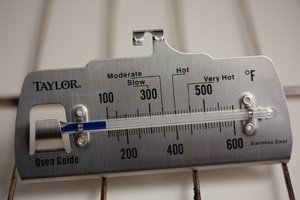 I've always recommended to have at least one thermometer in the oven at all times. Do you really want to trust that other shady built-in oven thermometer? Last I saw that dude he was blinking 12:00 like it was actually that time (maybe it was). The fact is, your built-in oven thermometer is usually off and it's a good idea to take steps to correct oven temperatures before you wake up and realize that you've grown into an adult at the same house accompanied by almost 1,053 slightly burned Friday night pizzas.
Vegan Candy Recipes

Mattie
2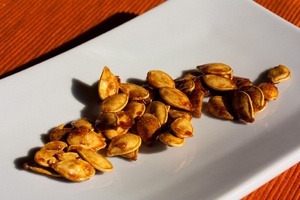 Don't know what to do with all those pumpkin seeds from pumpkin carving? Take those little pepitas and dress them up in little spiced sugar costumes with this Candied Spiced Pumpkin Seeds recipe. They'll love it and you will too because this vegan recipe features barley malt syrup, cinnamon, cloves and cardamom to help push the savory pumpkin seed flavors forward.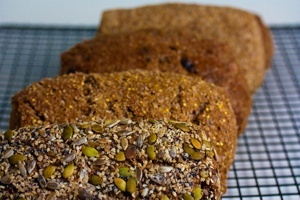 Around 150 years ago it became cost effective to mass mill grains into the shelf stable product we know of as flour. Since this time, a host of health related anomalies have been occurring in the United States. The beginning of the mass production of food is regarded as marking the beginning of the Standard American Diet, or more appropriately named, the SAD diet. These health issues are likely caused by products containing flour and sugars that, after they're quickly digested, turn into a flash flood of sugar that our bodies aren't capable of handling multiple times a day. To reduce having major health issues later in life, we'd like to remind you that highly processed foods should be enjoyed in moderation. When you're not overindulging in desserts, It's a good idea to eat natural food that is minimally processed and provides consistent energy without spiking your blood sugar. Luckily, this can be done while still eating amazing food. Enter Manna Bread.
Vegan Pudding Recipes

Mattie
0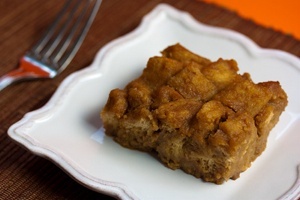 Bread pudding is probably the most comfortable comfort food. What other type of food has a moist pudding-like texture paired with a soft cake-like feel? Take some barley malt syrup, cinnamon, nutmeg, ginger and cloves. Now add some pumpkin and bourbon to the mix and you have this Vegan Pumpkin Bourbon Bread Pudding recipe to warm your soul. In one bite all your worries are forgotten for a few minutes. Preparing this bread pudding is really easy, provided you already have
pumpkin purée
. For the base, you can use any bread that is light in color and neutral in flavor.
Vegan Baking Guides

Mattie
1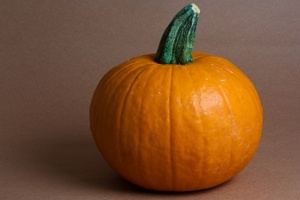 During the Fall there are few things better than pumpkin infused treats like
pumpkin pie
,
pumpkin muffins
and
pumpkin cookies
. Probably the least understood part of making these treats is getting the pumpkin purée out of the pumpkin. There are lots of different ways to make pumpkin purée. Some methods use boiling pumpkin chunks in water, others use baking the pumpkin in the oven. Still other methods detail using the microwave. Each method has it's pros and cons. Read on to find out how to select the best pumpkin and recommended steps for making good quality pumpkin purée.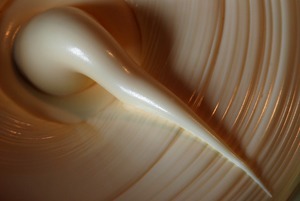 I love baking with vegan margarines like
Earth Balance
because they taste almost as good as butter and contain no hydrogenated oils. Hydrogenated oils are oils where hydrogen is forced into oil at high pressure. This chemically changes the unsaturated fatty acids into saturated ones. The benefit of this is that the oil is solid at room temperature and has an extended shelf life. The drawback of this is that trans fats are created during this process. In the 1980's food scientists began to notice adverse health affects associated with trans fat intake. This finding has led to a disaster in the food industry as food processors scramble to re-engineer their food to forgo hydrogenated oils but allow them to retain their flavor, shelf life, consistency and profit margins.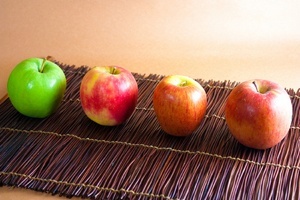 One of the reasons Fall is the best time of year for baking is the plethora of fruits and vegetables that have been growing to perfection all summer. Of these, apples are one of the most appreciated and varied. It's common to dedicate a whole afternoon to apple picking, searching for our favorite varieties in nature's perfect form and discovering new varieties along the way.
Read on for my recommendations for the best apple varieties to use for baking your
apple pie
,
strudel
,
apple butter
,
apple cake
,
apple galette
, etc.
Vegan Pie Recipes

Mattie
0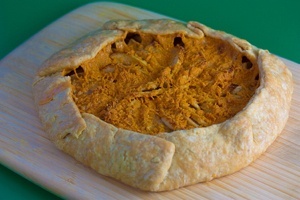 Apples with vegan cheddar cheese are a match made in heaven due to the contrasting flavors of sharp cheddar and tart apples in this Vegan Apple Cheddar Galette recipe. Be sure to use a sharp vegan cheddar cheese like
Daiya
or
Cheezly Mature White Cheddar
for best results. I used Daiya cheddar for this particular galette.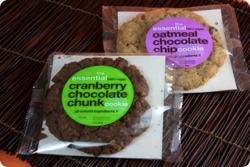 These little beauties were picked up recently at the local health food store. Actually they weren't little by any means, measuring about four inches across. They're from
Cindy Klotz Productions
which is a secret vegan cookie lab located inside a volcano guarded by unicorns. Ok, we just made that last part up. But there is no website info on the cookie and we're a little dumbfounded as to where to find more information about these cookies. A website that made us feel all warm and snuggly while at the same time describing their cookies would be a great place to start.
Update: Cindy Klotz Productions now has a
website
!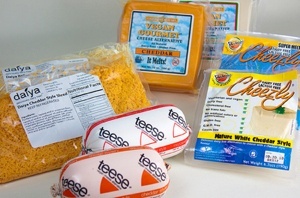 When it comes to things like pizzas, it's a good idea to increase the fun factor by topping it with some vegan cheese. Vegan cheeses have improved vastly over the last decade and it's often difficult to keep up with the latest offerings. I've always wondered how vegan cheeses would fair side by side in regards to flavor, meltiness and overall authenticity. In this review I'll show you how well these cheeses faired in those regards and let you know which topping came out on top.
Vegan Pancake Recipes

Mattie
3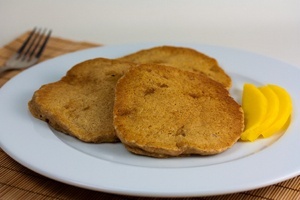 Mango and coconut are good friends and some of my favorite foods so why not pair them together in this Vegan Coconut Mango Pancake recipe? These vegan pancakes feature coconut milk, shredded coconut, mango chunks, just the right ratio of whole wheat flour and all-purpose flour and a touch of vanilla extract to further unify the flavors. It's the closest a pancake breakfast will ever get to feeling like a tropical paradise.