Favorites by eclon1
9 results - showing 1 - 9
Vegan Cookie Recipes

Mattie
16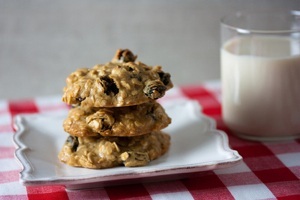 My grandmother used to make the best cookies I've ever tasted. They were oatmeal raisin cookies that had a barely crisp exterior that gave way to a chewy, rich center, releasing the most amazing oatmeal flavor. I asked her for the recipe once and she said she just made them by heart. How did people ever do that? It's amazing to me when something as exact as baking can be done without a recipe and be consistently amazing every time.
Vegan Cookie Recipes

Renoodle
8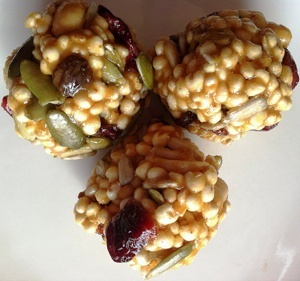 These Vegan Power Puffs are so puff-tastic! I highly recommend them. I have never used millet before and I will certainly be using it more often. It's fluffy, light and has more protein than puffed rice. These little power puffs are a perfect snack with a hot cuppa joe. You can easily cut this recipe in half if you aren't trying to feed an army. These are so good that my husband brought them to his Tai Chi class this morning and vanished with a request for more next week…I highly suggest you give these a whirl.
Vegan Pastry Recipes

Mattie
5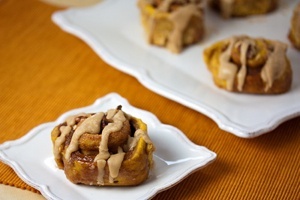 This Vegan Pumpkin Cinnamon Roll recipe takes every opportunity to pack itself with pumpkin and then become enhanced with a delicate balance of cinnamon, nutmeg, cardamom and cloves. Barley malt syrup can be a little tough to find but it's an essential flavor booster that puts the
pump
in pumpkin for these vegan cinnamon rolls. Rum Spice Icing is literally icing on the cake.
Vegan Icing and Glaze Recipes

Mattie
3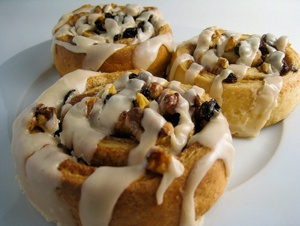 This Vegan Vanilla Icing recipe is a great companion for drizzling on
Vegan Cinnamon Rolls
, danishes, or
Vegan Pop Tarts
. It features confectioners sugar as its base and just a touch of non-dairy milk and vanilla extract to bring it all together.
Vegan Bonbon Recipes

Mattie
6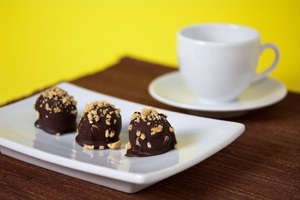 With this Vegan Peanut Butter Bomb recipe I captured the essence of fine, natural peanut butter, combined it with some lightly caramelized sugar and
Regular Vegan Butter
or margarine, then covered it in a dark chocolate exterior, completing an irresistible vegan chocolate bonbon.
Ever since the eighties when two people were walking down the street in opposite directions, one eating a chocolate bar, the other eating peanut butter out of a jar, we've known that the two go together really well. We know this because the two people allegedly collided exclaiming, "hey you're chocolate's in my peanut butter!" "My peanut butter's in your chocolate!" This has been documented as a true occurrence because I saw it in a Reese's Peanut Butter Cup commercial. I'm so thankful they just happened to have TV cameras rolling to get that on film. But what is up with the peanut butter in those things? It always tastes like it's deemed at the factory to be too low quality to actually make it into the panut butter jars. And the chocolate seemed like typical mass produced American chocolate fare, over-sweetened and chalky which barely qualifies as chocolate to this chocaholic.
Vegan Pastry Recipes

Mattie
33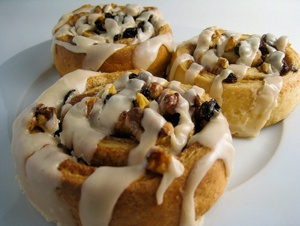 This Sticky Vegan Cinnamon Roll recipe features brown sugar, maple syrup and just the right amount of cinnamon, making them moist and chewy. And if that's not enough, these vegan cinnamon rolls are topped with walnuts, raisins then drizzled with icing to make them an irresistible treat any time of day.
Vegan Muffin Recipes

Mattie
9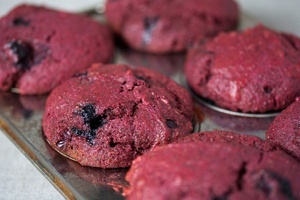 This Vegan Blueberry Beetnik Muffin recipe takes advantage of baked beets which harbor wonderful butter caramel flavors when their sugars caramelize. The vegan muffins are then complimented by the tartness of blueberries and just the right ratio of whole wheat flour and all-purpose flour. Lemon juice enhances flavor while allowing the beet purée to retain its vibrant reddish color during baking. This is because acids reduce the oxidation of plant-based compounds called anthocyanins, which are responsible for the red color in foods like beets and raspberries.
Vegan Muffin Recipes

Mattie
7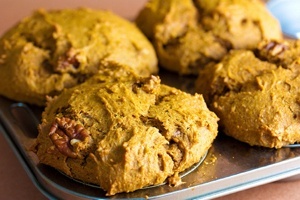 This Vegan Pumpkin Spice Muffin recipe has a wonderful warm, buttery flavor that is enhanced by barley malt syrup, lemon juice, cinnamon, ginger and a touch of cloves. Pecans add flavor complexity and a delightful crunch. These vegan muffins are equally good with baked sweet potato purée substituted for the pumpkin as well.
Vegan Muffin Recipes

Mattie
3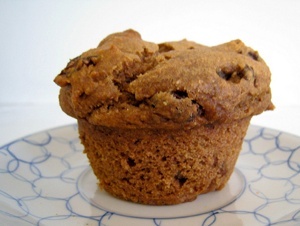 This 100% fruit sweetened Vegan Date Spice Muffin recipe features the satisfying malty flavor of medjool dates puréed with cinnamon, ginger and a touch of vanilla extract. These vegan muffins also feature pecans and raisins for an irresistibly earthy flavor complexity and texture.
9 results - showing 1 - 9