Favorites by siblings
1 results - showing 1 - 1
Vegan Bar and Square Recipes

Mattie
8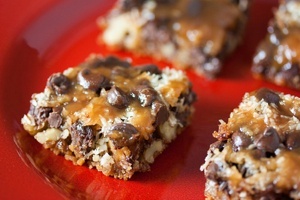 This Vegan Chocolate Coconut Magic Bar recipe is quite possibly the only good thing I got from going to church as a youngster. Sundays were free-for-all sugar fests that kept the kids coming. This vegan dessert in particular often inspired me to secretly infiltrate the church kitchen with ninja-like abilities so I could get to it first while the church service was still in session.
Magic Bars are also known as Seven Layer Bars because they often involve seven alternating layers of things like walnuts, chocolate chips, peanut butter chips, butterscotch chips and shredded coconut that are bonded together with a liberal drizzling of condensed non-dairy milk. I opted to forego the peanut butter chips and butterscotch chips due to their near-impossible vegan availability and because they usually push the sweetness envelope a little too far. I then made up for their lack of flavors by opting for
Golden Vegan Caramel Sauce
or
Easy Vegan Caramel Sauce
instead of
Vegan Condensed Non-dairy Milk
in the binding department. The result is a sticky gooey mess of a great thing.
1 results - showing 1 - 1