Favorites by windycityvegan
1 results - showing 1 - 1
Vegan Butter Recipes

Mattie
62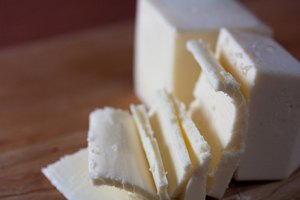 Butter is one of those ingredients that can be so central to baking that as soon as some people hear the term
vegan baking
they wonder aloud almost in a panic, "what about the butter?!" Many vegan baked items get along great with fats like canola,
coconut oil
or even olive oil. These types of fats work wonders for
cakes
,
cookies
,
bars
and
breads
. When designing recipes where we need something to act like butter, things start to get complicated. Solid fats like butter and margarine are integral to things like
puff pastry
,
pie crust
,
shortbread
,
croissants
, danish dough and
certain cakes
. This is because in these cases the fat is used to coat the flour so gluten doesn't develop too much and also trap air bubbles to enhance leavening and texture. The only option in these instances is to turn to a margarine or similar vegan butter that is solid at room temperature and gets soft as it melts so it blends to one cohesive mass of dough.
1 results - showing 1 - 1