Favorites by lojenn
7 results - showing 1 - 7
Other Vegan Cooking Recipes

Mattie
4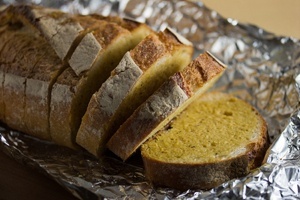 This Vegan Garlic Tarragon Bread Spread recipe features extra virgin olive oil, onion, garlic, fresh tarragon and just a touch of white wine vinegar to evoke a complex buttery flavor with a sharp cheese inspired finish.
Holiday dinners at my Godparent's house was always a special occasion. The food was inspirational but the the one dish that my brother and I looked forward to all year was the simple but perfect implementation of garlic bread. This consisted of a store-bought flute of San Francisco sourdough, sliced but leaving the bottom crust intact so the slices could be torn off as the loaf worked its way around the table. This loaf was buttered between the slices, wrapped in tin foil and warmed in the oven. Buttering the slices while leaving the loaf intact had the advantage of ensuring both sides of each slice was buttered. Wrapping the loaf in tin foil had the benefit of allowing the entire loaf to be saturated with buttery aromas and flavors during its time in the oven and the tin foil could be folded back over the loaf in between servings to keep the bread warm while it was on the table. Brilliant!
Vegan Cookie Recipes

Mattie
16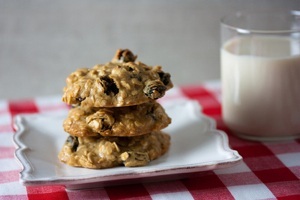 My grandmother used to make the best cookies I've ever tasted. They were oatmeal raisin cookies that had a barely crisp exterior that gave way to a chewy, rich center, releasing the most amazing oatmeal flavor. I asked her for the recipe once and she said she just made them by heart. How did people ever do that? It's amazing to me when something as exact as baking can be done without a recipe and be consistently amazing every time.
Vegan Yeasted Enriched Bread Recipes

Mattie
36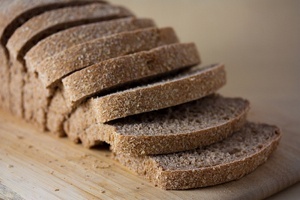 This Vegan No Knead Whole Wheat Sandwich Bread is now my go-to vegan bread recipe because it's simple to make and is a great example of how wet doughs can create wonderfully light and spongy breads. The higher water content allows the
gliadin
and
glutenin
in the flour to align into tight gluten bonds over time so you can forget about all that kneading drama. The result is a fluffy, chewy loaf that's perfect for sandwiches. Feel free to use this bread as a starting point and substitute a ½ cup of the flour for things like wheat germ, wheat bran or oat bran. It's important to note that due to the wetness of this dough it's only suitable for baking in a loaf pan.
Vegan Brownie Recipes

Mattie
52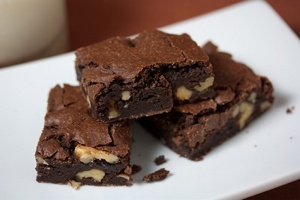 Ultimate is not something that I throw around lightly, especially for vegan brownies. I've had my share of vegan and regular brownies and been baffled by how lacking vegan versions are. Growing up on my Grandmother's brownies, I learned that a good brownie should be dense, fudgy and soft; not light, cakey and dry. Why is it so hard to emulate a traditional brownie recipe that simply consists of a few simple ingredients? Hint: it's due to the egg, which emulsifies, binds, slightly leavens then bakes up as part of the actual base of the brownie itself. To emulate this takes an expedition deep into the innards of brownie science, oh and for me, about seven years of failing until figuring this out.
Vegan Sponge Cake Recipes

Mattie
4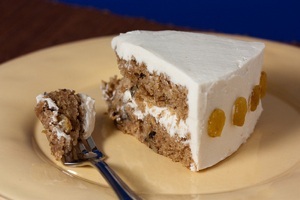 This Vegan Parsnip Cake recipe is carrot cake's long lost brother, featuring parsnips which are slightly spicy and astringent. Parsnips are teamed up with pineapple, golden raisins, non-diary yogurt and a touch of cardamom to make a vegan cake that's lighter and spicier than carrot cake but every bit as tasty. Like carrot cake, Vegan Parsnip Cake should be liberally frosted with
Easy Vegan Cream Cheese Frosting
or a
variant thereof
for best results.
Vegan Muffin Recipes

Mattie
13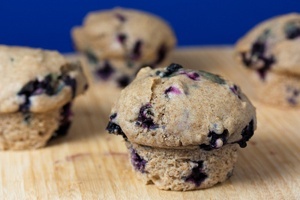 These Vegan Blueberry Muffins feature a buttery flavor and smooth texture thanks to the combined efforts of non-dairy milk, lemon juice and lemon extract. This compliments the tartness of the blueberries, making a delectable snack for breakfast or any other occasion. The combination of lemon juice and lemon extract in this recipe is so the lemon flavor can be brought up to tasty levels without excessive acidity, which in large amounts can negatively affect gluten's ability to bind.
Vegan Sponge Cake Recipes

Mattie
15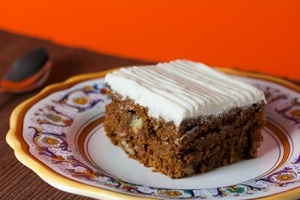 When I was little, I noticed my Mom eating cake. When I asked what kind of cake it was she replied, "you won't like it, it has carrots in it". Later in life I realized that she said that so she could horde the best type of cake in the world all for herself! (Don't think I forgot about that Mom) Just to make sure that doesn't happen again, I designed this vegan carrot cake recipe which features carrot enhancing ingredients such as pineapple, molasses, cinnamon, cardamom with just the right amount of raisins and walnuts for optimal flavor contrast. It's great slathered with
Cream Cheese Frosting
. I also have a
vegan carrot cake recipe
for 8 inch cake pans.
7 results - showing 1 - 7