Favorites by stefanie913
4 results - showing 1 - 4
Vegan Yeasted Enriched Bread Recipes

Mattie
38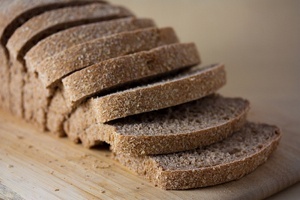 This Vegan No Knead Whole Wheat Sandwich Bread is now my go-to vegan bread recipe because it's simple to make and is a great example of how wet doughs can create wonderfully light and spongy breads. The higher water content allows the
gliadin
and
glutenin
in the flour to align into tight gluten bonds over time so you can forget about all that kneading drama. The result is a fluffy, chewy loaf that's perfect for sandwiches. Feel free to use this bread as a starting point and substitute a ½ cup of the flour for things like wheat germ, wheat bran or oat bran. It's important to note that due to the wetness of this dough it's only suitable for baking in a loaf pan.
Vegan Cookie Recipes

Mattie
10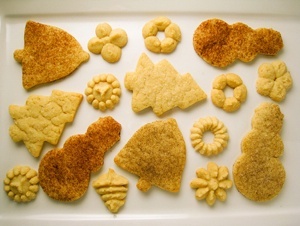 These Vegan Sugar Cookies are perfect for the Holidays or any time you feel like treating yourself. This recipe is on the shortbread side of things so they're nice and crispy. They can be rolled and cut with cookie cutters or pressed out of a cookie press. Dust them with coarse sugar, cinnamon, cardamom or all three if you're feeling frisky.
Vegan Muffin Recipes

Mattie
5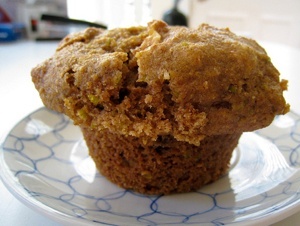 Pear chunks, pear purée and ginger come together to compliment each other in this tasty Vegan Ginger Pear Muffin recipe. Lemon juice, cinnamon and nutmeg further unify flavors and a touch of vanilla extract brings it all together.
Vegan Cookie Recipes

Mattie
44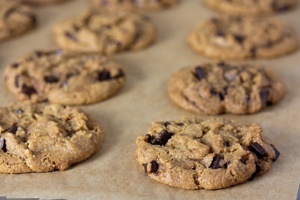 These Chewy Vegan Chocolate Chip Cookies are no nonsense soft, chewy chocolate chip cookies like your vegan grandma used to make. Over the years I've learned a lot about the art of cookie making and these are simple to make but still pack lots of flavor into a chewy, chocolatey chippity package. The secret to this cookie recipe is having just the right ratio of fat, water and
golden flax meal
. The molasses also adds chewiness and the cinnamon adds a touch of flavor complexity. Finally, the way the cookies are formed results in just the right shape. These cookies are also great for ice cream sandwiches.
4 results - showing 1 - 4