Favorites by Icanvegan
30 results - showing 1 - 15
Vegan Cheesecake Recipes

thesweetlife
28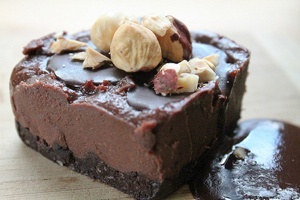 I have to admit, I used to have a sort of prejudice against raw desserts disbelieving in their potential goodness. Oh was I wrong. This is one of my favorite desserts I have ever made. Ever. This Raw Vegan Chocolate Hazelnut Cheesecake is so rich and creamy your friends won't believe that it's vegan.
Vegan Sponge Cake Recipes

G.Vongola666
26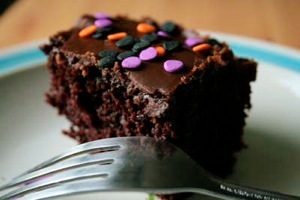 Ok so I found this Vegan Chocolate Cake recipe and it was a HUGE hit with my family and friends. It was quite easy to make as well! I've never really been a cake person, in fact I detest the stuff for the most part; but this cake made even me nod in approval. The blend of coffee that I put in the recipe adds to the chocolaty goodness and taste. It's very moist as well. There is a glaze that goes with the cake, but I personally never use it. I think the cake is just fine alone. However, I will add the directions for the glaze in case you guys want to try it.... Enjoy!
Vegan Shortening Recipes

Mattie
9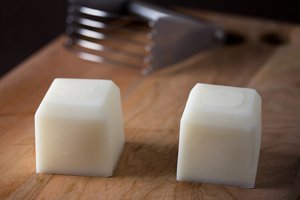 As I progress in my vegan baking adventures I strive for quality ingredients that give me as much control as possible over the flavors and textures I'm trying to convey. I also love breaking foods down to their most basic components and building them back up again, learning and getting unnecessarily excited along the way. For some people it's TV. For me it's this sort of food hacking.
I recently decided that I wanted to create a high quality vegan butter because I began to tire of the store bought
yellow goop
that I was so steadily relying on. What if I don't want all that diacetyl flavoring, beta carotene coloring, palm oil and who knows what else? My vegan butter experimentation ended up
being more successful than I imagined
. What if I made my own shortening?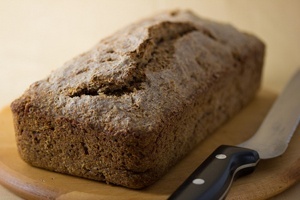 Traditional flour is ground endosperm powder which is the result of the flour mill removing most of the hard pieces and hence, nutrition from the wheat berry. I'm a huge fan of whole sprouted grains because they're more flavorful and contain significantly more nutrients than bread made with traditional flour. This Flourless Sprouted Whole Wheat Bread recipe utilizes sprouted wheat berries that are then ground into a purée. This requires a substantially hardy food processor. If you're not sure if your food processor is powerful enough, look on the bottom. It should say at least 6.5 Amps or "6.5 A".
This bread was difficult to design due to the nature of the wheat berry. This hardy seed contains the germ which is the heart and soul of the seed. The germ is the embryo of the plant in its dormant state. It's accompanied by the starchy endosperm which acts as fuel for the germ when it sprouts or
germinates
. This package is encased in a firm fibrous shell called the bran. This protects the seed kind of like an egg shell protects an egg.
Vegan Ice Cream Recipes

Mattie
4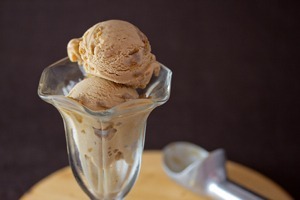 Trying cake batter ice cream recently I was intrigued of the concept of blending two completely different types of desserts. I loved how the ice cream takes on the unexpected flavor of cake batter but still has the consistency of ice cream. What could I get away with in an attempt to blend flavors and textures that would contrast but also compliment each other? I have a flavor experience burned in my memory from some point in my life where I had vanilla ice cream oozing over a ginger snap cookie. I realized that this was what I must try. Should I grind the ginger snaps and steep them in non-dairy milk or just blend them in the ice cream recipe before processing in the ice cream maker? Would I still need to add the same ratios of ingredients as my Vanilla Ice Cream recipe?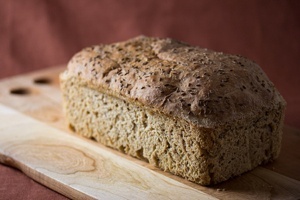 A tough of sugar takes the edge off the bitterness of the rye in this Easy Vegan Rye Bread recipe. Molasses has been added to increase the overall richness of the rye flavor and caraway seeds adds an interesting layer subtle spicy cool to the loaf. Feel free to experiment with these additions and change them if you prefer. The loaf will still turn out roughly the same.
Initially I was intrigued by the flavor of rye breads but intimidated by baking them. How was I supposed to bake flavorful, crusty loafs with most of the leavening-enhancing gluten out of the picture? A little research found that although rye flour contains about the same amount of protein than regular flour, most of this protein isn't from
glutenin
and
gliadin
, the two protein compounds that unravel and combine to create gluten when water is added and the mixture is kneaded. What rye flour does contain though are natural gums called
pentosans
which absorb about 16 times their weight in water. This is the puzzle piece of how these breads are crafted.
Vegan Pizza Crust Recipes

Mattie
21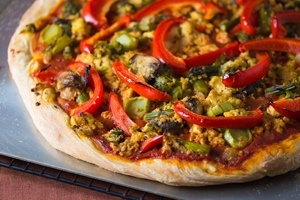 I haven't yet met anyone who isn't a raging pizza fan. It was one of the hardest foods for me to
give up
when I lit the vegan torch. Luckily, I've developed this Easy Vegan Pizza Crust recipe that's easy to make and features a rich flavor with a crispy exterior and chewy interior. This has come at a price. The uneven road leading to this crust has made past girlfriends almost dump me over failed pizza prospects. I've lost many highly anticipated meals and wasted lots of time. Yes, the lowly pizza crust depends on some fundamental ingredients and methods that are to be mastered in order to bake itself to crispy perfection.
Vegan Butter Recipes

Mattie
62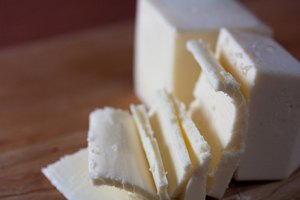 Butter is one of those ingredients that can be so central to baking that as soon as some people hear the term
vegan baking
they wonder aloud almost in a panic, "what about the butter?!" Many vegan baked items get along great with fats like canola,
coconut oil
or even olive oil. These types of fats work wonders for
cakes
,
cookies
,
bars
and
breads
. When designing recipes where we need something to act like butter, things start to get complicated. Solid fats like butter and margarine are integral to things like
puff pastry
,
pie crust
,
shortbread
,
croissants
, danish dough and
certain cakes
. This is because in these cases the fat is used to coat the flour so gluten doesn't develop too much and also trap air bubbles to enhance leavening and texture. The only option in these instances is to turn to a margarine or similar vegan butter that is solid at room temperature and gets soft as it melts so it blends to one cohesive mass of dough.
Vegan Hearth Bread Recipes

Mattie
8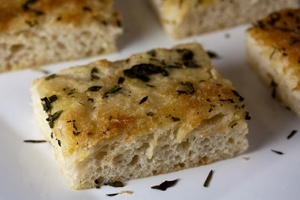 The secret to making great focaccia involves using an herbed olive oil to lend an array of herb flavors, allowing the dough to ferment in a refrigerated state for at least 12 hours which allows complex bread flavors to develop and baking a wet dough at a very high temperature which ensures a soft, spongy texture and a crispy crust. Fresh herbs are paramount to infusing the right intensity of flavors in this focaccia recipe. Feel free to use any combination of fresh basil, thyme, rosemary, oregano, sage, savory or marjoram. A long, refrigerated fermentation allows naturally occurring enzymes within the flour to break out more sugars from the starches for the yeast to ferment. These extra sugars allow the yeast to built more flavor, sweeten the focaccia and caramelize under heat which contributes a multitude of enhanced flavors.
Vegan Candy Recipes

Mattie
7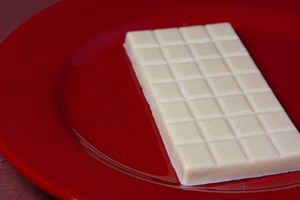 Commercial vegan white chocolate is relatively difficult to find but is an extremely versatile ingredient to have in your kitchen. Luckily, white chocolate's main ingredient, cocoa butter, is
easy to find at affordable prices on the internet
if you can't find it at your local health food store. A touch of
soy milk powder
and vanilla extract enhances depth of flavor in this chocolate.
Earlier attempts at making this Vegan White Chocolate recipe have resulted in excessively grainy bars due to the absence of industrial chocolate making equipment. A few extra steps will ensure this bar is as smooth as possible. Grinding your soy milk powder in a rotary coffee grinder will make the powder granules as small as possible and cause them to not be as noticeable on the palate. Tempering the chocolate to ensure proper fat crystal formation is the other crucial step to ensuring a smooth, high quality bar. Once you've mastered these steps you can add flavorings like cardamom, matcha, cinnamon and ginger powder for a truly outstanding vegan white chocolate.
Vegan Yeasted Enriched Bread Recipes

Mattie
38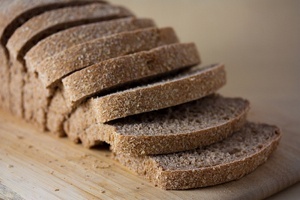 This Vegan No Knead Whole Wheat Sandwich Bread is now my go-to vegan bread recipe because it's simple to make and is a great example of how wet doughs can create wonderfully light and spongy breads. The higher water content allows the
gliadin
and
glutenin
in the flour to align into tight gluten bonds over time so you can forget about all that kneading drama. The result is a fluffy, chewy loaf that's perfect for sandwiches. Feel free to use this bread as a starting point and substitute a ½ cup of the flour for things like wheat germ, wheat bran or oat bran. It's important to note that due to the wetness of this dough it's only suitable for baking in a loaf pan.
Vegan Yeasted Enriched Bread Recipes

Mattie
5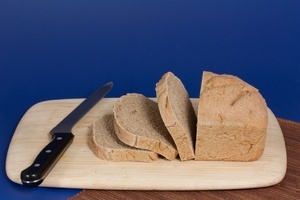 There's nothing quite like home made bread. This hearty Easy Vegan Wheat Bread recipe is easy to whip up if you have a few hours and it's really simple. In bread baking, longer rise cycles at lower temperatures usually result in more flavor compounds that are generated due to the yeast extracting and break down more starches in the flour and converting them into sugars which will then get caramelized during baking. Some doughs call for an overnight rise in the refrigerator so optimum flavor can be developed. In this vegan loaf you have the option of doing an overnight slow rise in the refrigerator or a regular rise. The two first rise cycle is for the main fermentation of the dough where the yeast eats the most sugars and rises the bread with CO2. The last rise is called
proofing
in where the dough rises after it's been molded into it's desired shape or placed in it's specific mold.
Vegan Bonbon Recipes

Mattie
3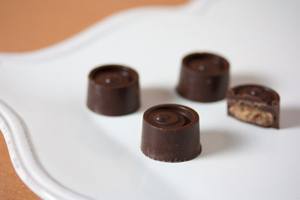 One of the reasons marzipan goes back ages is because it's extremely versatile. It can be used for anything from cake decorations, fillings in cookies and pastries or in this case, a center in this Vegan Bonbon recipe. A touch of almond extract brings out some extra flavor so it can compete on the same level as the chocolate. This recipe uses a
chocolate mold
. If you don't have one, place the marzipan balls in the freezer for an hour or so, roll them in melted chocolate, then place them on a parchment paper lined cookie sheet before returning them to the freezer for about another hour.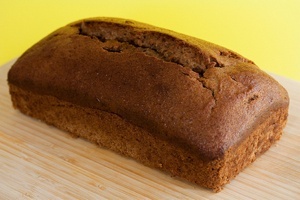 The more I use yeast instead of baking powder for quick breads such as Yeasted Vegan Banana Bread, the more I notice that yeasted breads produce far better flavor results. How did we get into this bad habit of
chemically leavening
our sweet breads with baking powder and baking soda? One word: convenience. Yeasted breads take about 3 times longer to make because we have to wait for the yeast to do it's thing. Yeast leavened breads are usually considerably more flavorful than chemically leavened breads because as the yeast ferments and spits out C02 that rises the bread, it also produces a multitude of complex flavor compounds. This is not the case with chemically leavened breads where few flavor byproducts are produced during the chemical reaction between acid and alkalne that produces the C02. Yeasted Vegan Banana Bread is now my go-to vegan banana bread recipe.
Vegan Spread Recipes

Mattie
4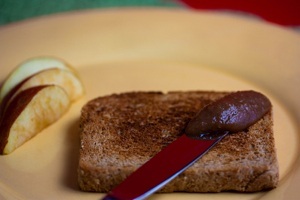 Apple butter varies from apple sauce in that apple sauce is just puréed apples with some spice and sweetener optionally added. Apple butter has a bit of a cult following because it more accurately captures the essence of the apple. It consists of a spiced apple sauce that's cooked down for several hours so the sugars caramelize, preserving the mixture in the process. Cooking the mixture also produces more complex flavor compounds, activates naturally occurring pectin so it gels and reduces it so it's more concentrated. The result is rich, creamy apple heaven. Fall apple perfection captured in a jar. You can make a large batch from this recipe and can it for future use or spread it immediately on toast, pancakes or use for anything where you would use fruit preserves.
30 results - showing 1 - 15