Favorites by fayefee
19 results - showing 1 - 15
Vegan Granola Recipes

Mattie
8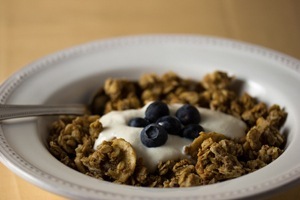 I've designed this Vegan Banana Walnut Granola recipe to be considerably under-sweet so it can be relied upon for a nourishing breakfast that will deliver sustained energy. If you prefer your granola more on the sweet side, increase the sugar by 2 to 4 Tablespoons.
As the granola is toasted, the heat brings out the full potential of rich banana-enhancing notes from the cashew butter, banana chips and walnuts. As bananas ripen, their starches convert to fructose which makes them sweeter and more suitable for baking. In fact, whenever you plan on baking with banana I advise you to always use over-ripe bananas. I usually transfer these over-ripe bananas to a plastic freezer bag and store them in the freezer. When I have enough saved up I use them in things like
Banana Bread
,
Banana Walnut Pancakes
and this granola.
Vegan Pizza Crust Recipes

Mattie
21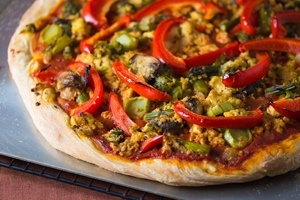 I haven't yet met anyone who isn't a raging pizza fan. It was one of the hardest foods for me to
give up
when I lit the vegan torch. Luckily, I've developed this Easy Vegan Pizza Crust recipe that's easy to make and features a rich flavor with a crispy exterior and chewy interior. This has come at a price. The uneven road leading to this crust has made past girlfriends almost dump me over failed pizza prospects. I've lost many highly anticipated meals and wasted lots of time. Yes, the lowly pizza crust depends on some fundamental ingredients and methods that are to be mastered in order to bake itself to crispy perfection.
Vegan Cookie Recipes

Mattie
16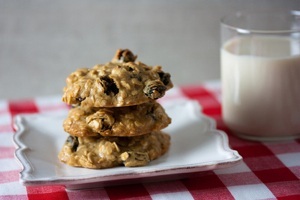 My grandmother used to make the best cookies I've ever tasted. They were oatmeal raisin cookies that had a barely crisp exterior that gave way to a chewy, rich center, releasing the most amazing oatmeal flavor. I asked her for the recipe once and she said she just made them by heart. How did people ever do that? It's amazing to me when something as exact as baking can be done without a recipe and be consistently amazing every time.
Vegan Pastry Recipes

Mattie
4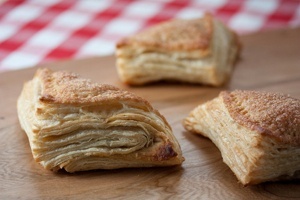 Apple Turnovers are perhaps one of the rare baked treats that suit the season any time of year. Perhaps the sweet, gooey apple paired with buttery, flaky puff pastry being one of the ultimate flavor combinations is why. This vegan treat would hit the spot on a cold winter morning, a hot summer day, or as a midnight snack. Put leftovers in the toaster oven for a few minutes to make them taste like they just came out of the oven. For the ultimate dessert, top it with some
Vegan Vanilla Ice Cream
and
Vegan Caramel Sauce
.
Vegan Pastry Recipes

Mattie
6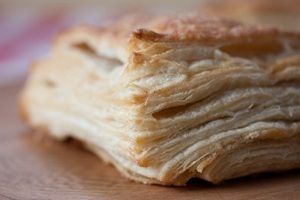 I'm obsessed with vegan baking because unlike traditional cooking, there are nearly no limits or boundaries to creating completely new forms of food. Effectively harnessing your imagination is the only truly required skill. Developing this skill, as well as understanding the fundamentals of baking allows you to create true art forms. Then you get to eat them.
Puff pastry is a truly remarkable building block for vegan baking because of its versatility. It can be the basis of anything from flaky layers enveloping fruit, coiled into rolls such as sticky buns, or twirled into cinnamon and sugar twists.
Referred to in France as
pâte feuilletée
which means
pastry made leaf-like
, puff pastry is made of several hundred alternating layers of dough and fat. The water in the dough produces steam during baking that separates and lifts the layers into the puffy goodness that we know and love. This steam-assisted lift is known as
chemical leavening
. Puff pastry often gets a bad rap due to the many steps of preparation involved. Puff pastry can be a truly time intensive endeavor- if you let it. I recommend splitting the preparation into little pieces and working at it a little bit at a time over a few days. This way you'll only spend a total of about an hour on it. You also have the option of making your puff pastry and storing it in the freezer for a special occasion or for that day when you can no longer resist some sticky caramel cinnamon buns.
Vegan Pastry Recipes

Mattie
4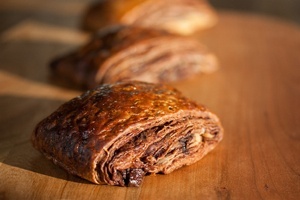 The only thing I like better than flaky, buttery, vegan croissants is flaky, buttery, vegan croissants wrapped around just the right amount of chopped dark chocolate so that it barely oozes out the sides as it's baked to perfection. In these chocolate croissants, also known as
Pain au Chocolat
, I used chocolate croissant dough which is made by mixing a little sugar and cocoa powder into the fat block that forms the base of the croissant dough. The result is hundreds of layers of chocolate buttery heaven; an exquisite pastry that elevates chocolate to a whole different level. Be sure to use dark chocolate that is 60% cacao to achieve optimum balance between bittersweet chocolate and the buttery notes of the croissant dough.
Vegan Pastry Recipes

Mattie
6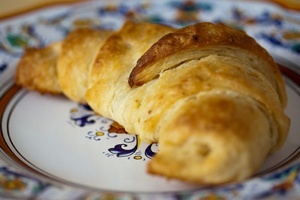 I have this theory that those who don't care for croissants just haven't experienced the the real thing: the flaky outer crust shattering as you sink your teeth in, releasing a buttery aroma and uncovering a heavenly tender, fluffy, rich interior. At the end of the experience you might have to get up and shake yourself off. Many croissants start out this way but after about a day they turn into
croisoggies
as they quickly stale and don't have quite the same effect on the palate.
A croissant is a variation of laminated dough that starts out as dough wrapped around a buttery core. Samurai swords are made in a much similar way with molten metal being wrapped around a red hot iron core. Coincidence? I think not! This dough is folded and wrapped around itself to the point of where there are several dozen layers of fat and dough. When baked, steam is released and trapped between the layers which provides a leavening lift as well as flaky goodness. This Vegan Croissant recipe features a mix of Vegan Butter and shortening to mimic the similar fat content of butter. Do not use tub margarine for croissants if you don't want to waste your time. It's all about having a high-fat Vegan Butter so there's more distinction between the fat and dough layers.
Vegan Cookie Recipes

Mattie
4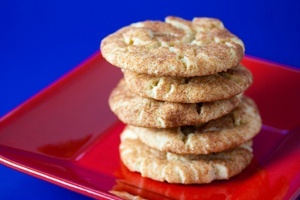 This Vegan Macadamia Snickerdoodle Cookie recipe utilizes a soft, buttery dough that's designed to leaven fast in the oven then fall. This results in the trademark crackly top that some say give this cookie the origins of it's name;
schneckennudeln
which means
snail noodle
in German. Snickerdoodle dough is similar to sugar cookie dough but there is more leavening power and the dough is rolled in cinnamon sugar prior to baking in the snickerdoodle version. The result is a tender cookie that is slightly crispy on the outside and soft on the inside accompanied by rich cinnamon notes.
Vegan Pastry Recipes

Mattie
3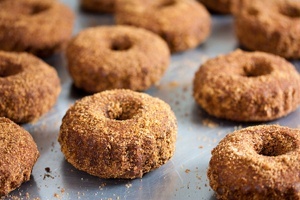 "What's an apple cider doughnut?", I asked at my recipe club meeting. I think my friends were as surprised as I was that I didn't know of it's existence, let alone any vegan versions. Come to find out, I've learned that many other West Coast (USA) natives are unaware of this cake doughnut that's infused with a hint of apples. This is because apple cider doughnuts are mainly a Northeast (USA) phenomenon. In colonial times, doughnuts were served during the Fall months in the Northeast when exotic dough recipes for beignets, imported from France and Holland, started to evolve and the seasonal butchering provided enough fat to fry things. Combine this with the apple harvest being at its peak in the Fall and you have a food collision course in the making.
Other Vegan Baking Recipes

Mattie
1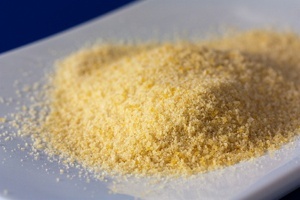 What if you could have a fanny pack with a secret stash of Vegan Caramel Powder that you could just dust onto things like
apple cider donuts
, fold into
apple pies
, work into
cake batter
and sprinkle onto
ice cream
whenever you wanted? Now you can! Caramel significantly enhances everything from chocolate to apple to vanilla, making this Caramel Powder a great thing to have in your kitchen flavor arsenal, or your fanny pack. Caramel powder is just sugar, water, oil and salt brought up to an amber caramelization temperature of 345F (174C) on the
Candy Temperature Chart
. If you'd like a slightly deeper caramel flavor feel free to experiment with temperatures up to 375F (191C).
Vegan Hearth Bread Recipes

Mattie
8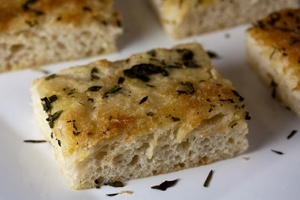 The secret to making great focaccia involves using an herbed olive oil to lend an array of herb flavors, allowing the dough to ferment in a refrigerated state for at least 12 hours which allows complex bread flavors to develop and baking a wet dough at a very high temperature which ensures a soft, spongy texture and a crispy crust. Fresh herbs are paramount to infusing the right intensity of flavors in this focaccia recipe. Feel free to use any combination of fresh basil, thyme, rosemary, oregano, sage, savory or marjoram. A long, refrigerated fermentation allows naturally occurring enzymes within the flour to break out more sugars from the starches for the yeast to ferment. These extra sugars allow the yeast to built more flavor, sweeten the focaccia and caramelize under heat which contributes a multitude of enhanced flavors.
Vegan Cookie Recipes

Renoodle
16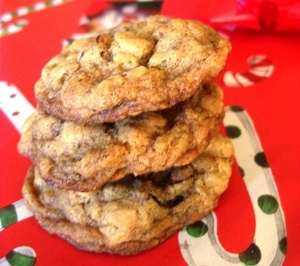 These Vegan Cranberry Pecan Oatmeal Cookies are one of the standards of our Christmas baking celebrations. They are crispy on the outside and soft on the inside. The crunchy pecans and tart-sweetness of the cranberries really make a complex and well rounded flavor and texture. They are really, really delicious!
Vegan Brownie Recipes

Mattie
8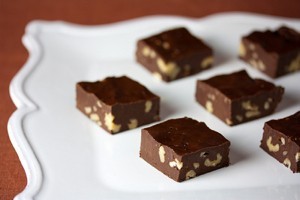 When working on this Vegan Double Chocolate Fudge recipe I learned that in order to master fudge, you need to thoroughly understand caramelization. Luckily, after dozens of fudgy failures, I now understand caramelization well enough to the point of where I can proudly share my recipe for all to enjoy, because you, dear reader, are worth more than marshmallow fluff. This recipe is easy as long as you follow it closely.
Vegan Pastry Recipes

Mattie
5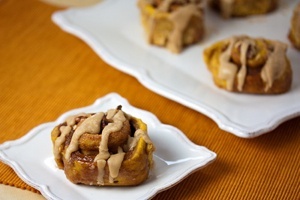 This Vegan Pumpkin Cinnamon Roll recipe takes every opportunity to pack itself with pumpkin and then become enhanced with a delicate balance of cinnamon, nutmeg, cardamom and cloves. Barley malt syrup can be a little tough to find but it's an essential flavor booster that puts the
pump
in pumpkin for these vegan cinnamon rolls. Rum Spice Icing is literally icing on the cake.
Vegan Muffin Recipes

Mattie
1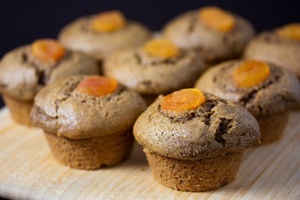 The sweetness of apricots and the earthiness of 100% rye flour complement each other, especially when accompanied by molasses, cardamom and espresso powder in this Vegan Apricot Rye Muffin recipe. Rye flour contains a low amount of gluten compared to wheat based flour so in order to enhance binding, the batter is mixed for 1 minute to allow the starches in the flour to become activated. The pectin in the apricot preserves also acts wonderfully as a binder in these vegan muffins.
19 results - showing 1 - 15