Favorites by rainbowcarrot
19 results - showing 16 - 19
Vegan French Toast Recipes

Mattie
3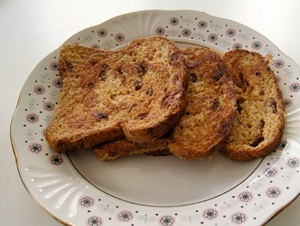 This Easy Vegan French Toast recipe is just one more reason to get up in the morning. It's great for brunch with friends too because you don't have to waste the whole morning being on griddle duty as much as you do with pancakes. It features chickpea flour, nutritional yeast flakes, cinnamon, nutmeg and cardamom to bring out the best combination of savory and sweet flavors.
Vegan Muffin Recipes

Mattie
3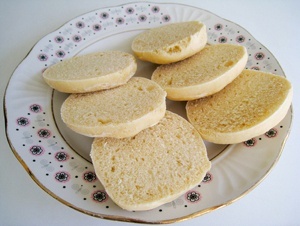 This Vegan English Muffin recipe features just a touch of lemon juice and sugar to enhance its yeast-induced flavors. They're awesome fresh out of the toaster with a little
Vegan Butter
, jam or whatever your preferred muffin topping is. I've been known to use these as burger buns too. They're not loaded with preservatives and dough conditioners like their store-bought cousins but they'll still keep in the freezer stored in a plastic freezer bag for several months.
Vegan Muffin Recipes

Mattie
13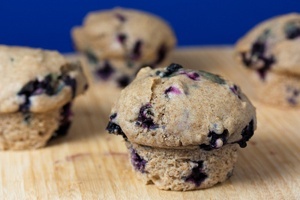 These Vegan Blueberry Muffins feature a buttery flavor and smooth texture thanks to the combined efforts of non-dairy milk, lemon juice and lemon extract. This compliments the tartness of the blueberries, making a delectable snack for breakfast or any other occasion. The combination of lemon juice and lemon extract in this recipe is so the lemon flavor can be brought up to tasty levels without excessive acidity, which in large amounts can negatively affect gluten's ability to bind.
Vegan Cookie Recipes

Mattie
42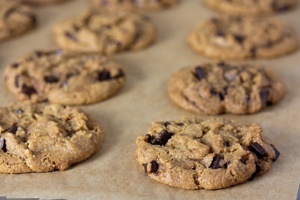 These Chewy Vegan Chocolate Chip Cookies are no nonsense soft, chewy chocolate chip cookies like your vegan grandma used to make. Over the years I've learned a lot about the art of cookie making and these are simple to make but still pack lots of flavor into a chewy, chocolatey chippity package. The secret to this cookie recipe is having just the right ratio of fat, water and
golden flax meal
. The molasses also adds chewiness and the cinnamon adds a touch of flavor complexity. Finally, the way the cookies are formed results in just the right shape. These cookies are also great for ice cream sandwiches.
19 results - showing 16 - 19