Favorites by fayefee
19 results - showing 16 - 19
Vegan Pastry Recipes

Mattie
29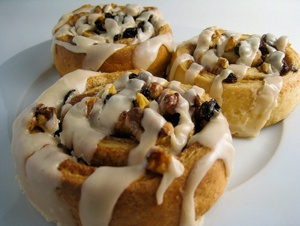 This Sticky Vegan Cinnamon Roll recipe features brown sugar, maple syrup and just the right amount of cinnamon, making them moist and chewy. And if that's not enough, these vegan cinnamon rolls are topped with walnuts, raisins then drizzled with icing to make them an irresistible treat any time of day.
Vegan Cookie Recipes

Mattie
1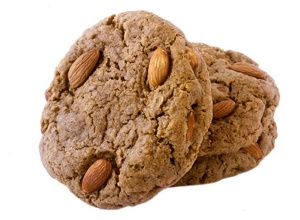 I used to own a vegan baking company called
Enchanted Oven Baking Co
. This Vegan Ginger Almond Madness Cookie was one of the cookies I sold, individually packaged, to health food stores around the San Francisco Bay Area around 2003-2005. Here it is in all its glory. This recipe has been modified from a 200 cookie batch so please excuse the wonky measurements.
Molasses, ginger, cinnamon, almond extract, cloves and just the right amount of almonds really bring out the best in these dense, chewy ginger snap cookies.
Vegan Muffin Recipes

Mattie
3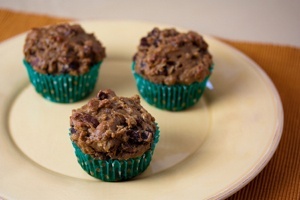 This Hearty Vegan Breakfast Muffin recipe was created because I wanted a healthy, hearty vegan muffin that provided good energy for the first meal of the day without giving me a mega-dose of sugar like most other muffins often do. These fruit sweetened muffins contain no refined sugar, more protein, complex carbs and fiber than most other muffins because they feature ingredients like dates, raisins, walnuts, rolled oats, hemp protein powder or soy flour, maple syrup and molasses. These ingredients lend a delightfully complex taste and contribute to a dense hearty texture. They're easy to make and provide about one week of breakfasts. Try them topped with almond butter.
Vegan Muffin Recipes

Mattie
9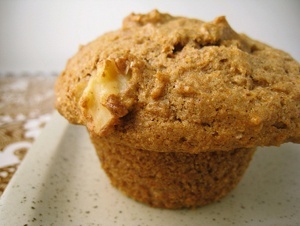 There's something about bananas and walnuts that just makes a perfect quick bread. This Vegan Banana Walnut Muffin recipe delivers it to your tastebuds thanks to the help of cinnamon, nutmeg a touch of vanilla extract. A slice of these vegan muffins topped with almond butter is a great thing.
19 results - showing 16 - 19