Vegan Quick Bread Recipes
guest
2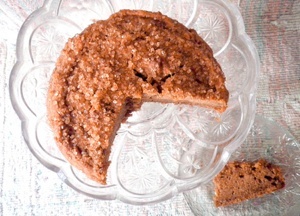 I glanced over at my fruit basket yesterday and found four moldy looking apples at the bottom. They had been languishing there for over a week, with no one paying them any attention. Now, I'm a bit of a purist with my apples. I only like them tart and crunchy with faint green veins running through their flesh. Bruised apples with brown spots go straight on my list of foods I most hate to eat. Still, something had to be done with those apples, and without much of a plan, I peeled, cored, and chopped them up.
Then I spied a jar full of demerara sugar that I'd bought recently, and inspiration took form. I decided I'd bake an apple bread. The principle would be the same as banana bread, only since apple has a higher water content, I could consider lowering the amount of fat in my recipe, and under bake slightly, so my cake would remain moist. A small quantity of vinegar provides just enough acid for leavening, and the baking soda helps it rise. This bread bakes up dense.
Other Vegan Cooking Recipes

Mattie
4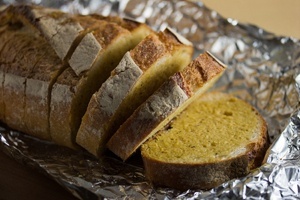 This Vegan Garlic Tarragon Bread Spread recipe features extra virgin olive oil, onion, garlic, fresh tarragon and just a touch of white wine vinegar to evoke a complex buttery flavor with a sharp cheese inspired finish.
Holiday dinners at my Godparent's house was always a special occasion. The food was inspirational but the the one dish that my brother and I looked forward to all year was the simple but perfect implementation of garlic bread. This consisted of a store-bought flute of San Francisco sourdough, sliced but leaving the bottom crust intact so the slices could be torn off as the loaf worked its way around the table. This loaf was buttered between the slices, wrapped in tin foil and warmed in the oven. Buttering the slices while leaving the loaf intact had the advantage of ensuring both sides of each slice was buttered. Wrapping the loaf in tin foil had the benefit of allowing the entire loaf to be saturated with buttery aromas and flavors during its time in the oven and the tin foil could be folded back over the loaf in between servings to keep the bread warm while it was on the table. Brilliant!
Vegan Yeasted Enriched Bread Recipes

Mattie
4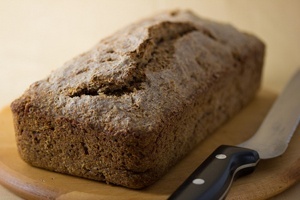 Traditional flour is ground endosperm powder which is the result of the flour mill removing most of the hard pieces and hence, nutrition from the wheat berry. I'm a huge fan of whole sprouted grains because they're more flavorful and contain significantly more nutrients than bread made with traditional flour. This Flourless Sprouted Whole Wheat Bread recipe utilizes sprouted wheat berries that are then ground into a purée. This requires a substantially hardy food processor. If you're not sure if your food processor is powerful enough, look on the bottom. It should say at least 6.5 Amps or "6.5 A".
This bread was difficult to design due to the nature of the wheat berry. This hardy seed contains the germ which is the heart and soul of the seed. The germ is the embryo of the plant in its dormant state. It's accompanied by the starchy endosperm which acts as fuel for the germ when it sprouts or
germinates
. This package is encased in a firm fibrous shell called the bran. This protects the seed kind of like an egg shell protects an egg.
Vegan Cheesecake Recipes

Mattie
3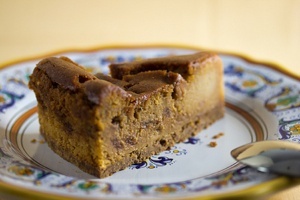 For those difficult times when you can't decide whether to make a
vegan apple pie
or a
cheesecake
, do both! This Vegan Caramel Apple Cheesecake recipe utilizes soy yogurt that is left with pureed almond and non-dairy milk for up to 24 hours so the
Lactobacillus
cultures in the yogurt can enhance the flavors of the mixture. In order for this to work as effectively as possible it's important to use unsweetened non-dairy soy yogurt containing
Lactobacillus
and with as little additives and thickeners as possible.
Lactobacillus
cultures are bacteria that ferment sugars in the food and produce complex flavors and acids such as lactic acid.
Other Vegan Baking Recipes

Mattie
2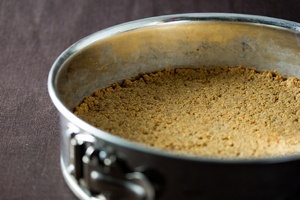 Vegan crusts are the foundation of many desserts so it's important to treat them seriously. When making a crust for a springform pan, it's important to have options that pair nicely with your dessert. One example is that you'd want to use a gluten-free crust with a gluten-free cheesecake. Regular cheesecakes go great with a graham cracker crust recipe but what if you're not going the traditional route? That
Vegan Apple Caramel Cheesecake
might be better paired with a ginger snap cookie crust or a walnut crust. What if you're doing something entirely different from a cheesecake or maybe you have a gluten intolerance? Maybe you want to take it to the next level and make a
Vegan Chocolate Mouse
with a hazelnut crust! Now you can do almost any type of spring form crust if you have access to dry cookies or nuts based on the recipe below.
Other Vegan Cooking Recipes

Mattie
1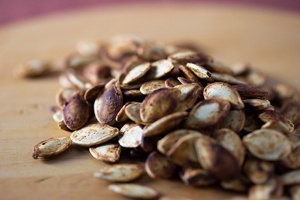 Every year for the last several years I've been experimenting with the seeds that come with my fall pumpkins. I enjoy roasting them
and candying them
but I've always grappled with their often tough mouthfeel. I always seem to be gnawing on them for eternity as the texture slowly starts to remind me of sawdust. Every year I've tackled this problem differently; usually simmering them in water for a certain amount of time to soften them before roasting. This tactic has only yielded me marginally more tender pumpkin seeds. I needed to take this further.
A few months ago I picked up my first slow cooker. After some initial testing I found that slow cooking the pumpkin seeds in water on high (about 210F (99C) for 10 hours allowed me to roast them to perfection. Using this method, your pumpkin seeds will be crispy on the outside and give way to a subtle chew on the inside as they release their flavors. Oh yeah, the flavor. Now that found the optimum texture, I opted for a savory punch thanks to the shiro miso, paprika and a dash of sugar and cayenne for depth of flavor. Now I can finally really enjoy pumpkin seeds as an easy going snack.
Vegan Quick Bread Recipes

Mattie
5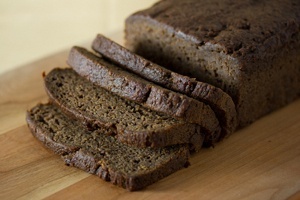 "See those bananas over there?", I asked, tilting my head towards the end of the aisle at the health food store. "I'll buy fifteen of 'em for half price", I suggested confidently. The cashier paused for a moment, not knowing whether to believe me. Why would anyone want to buy bananas that were almost more suitable for the compost bin than the kitchen for any price? "Sure", he sighed. He knew they were garbage unless I took them in. I laughed to myself when I realized how excited I was to buy bananas that most people wouldn't even think of eating. I started to feel bad about not liberating the others but I had to get home; there was work to do! How cool would it be to peel the bananas, purée them and slow cook them into a thick syrup to use as a base for fruit sweetened banana bread? Finally, something to do with all those bananas laying around in your freezer!
Vegan Sauce Recipes

Mattie
0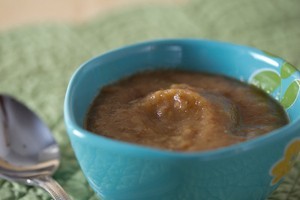 Have you ever gone apple picking and brought back pounds of fresh apples with high aspirations only to watch helplessly as your prized stock slowly breaks down as you're just too busy to commit to making all the
Apple Pies
,
Apple Turnovers
,
Apple Cider Doughnuts
and
Apple Strudel
? This happened to me recently and as I was opening the compost bin of shame my friend Dan mentioned, "you know, my Mom uses the soft apples for apple sauce and it comes out awesome!" This sounded really interesting to me but I still didn't have time. So why not combine these soft apples with this lack of time and make a quick and easy applesauce?