Vegan Blueberry Muffins or Bread

Mattie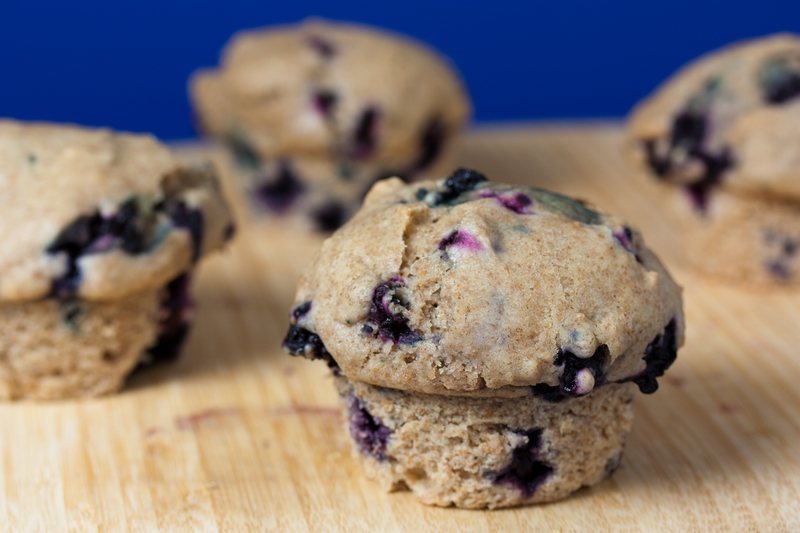 These Vegan Blueberry Muffins feature a buttery flavor and smooth texture thanks to the combined efforts of non-dairy milk, lemon juice and lemon extract. This compliments the tartness of the blueberries, making a delectable snack for breakfast or any other occasion. The combination of lemon juice and lemon extract in this recipe is so the lemon flavor can be brought up to tasty levels without excessive acidity, which in large amounts can negatively affect gluten's ability to bind.
Find more
Blueberry recipes
on Veganbaking.net
Vegan Blueberry Muffin Recipe
1 cup + 2 Tablespoons non-dairy milk
2 Tablespoons lemon juice
1 Tablespoon
golden flax meal
1 ½ cups + 2 Tablespoons all-purpose flour
1 ¼ cups whole wheat flour
1 teaspoon baking powder
1 teaspoon baking soda
¾ cup + 2 Tablespoons sugar
½ cup
Regular Vegan Butter
or margarine, melted (1 stick)
1 teaspoon vanilla extract
1 teaspoon lemon extract
¾ teaspoon salt
¼ teaspoon cinnamon
1 ½ cups fresh blueberries
1) Curdle your non-dairy milk
Preheat oven to 325F (163C). If you're using this recipe for muffins, line a muffin tin with cupcake liners so the muffins don't stick to the tin and can be removed easily. In a medium bowl, whisk together non-dairy milk, lemon juice and golden flax meal. Let it sit for about 10 minutes so the mixture slightly curdles and thickens.
2) Whisk together the dry ingredients
In a large mixing bowl whisk together the all-purpose flour, whole wheat flour, baking powder and baking soda.
3) Whisk together the flavor building ingredients
In another large mixing bowl whisk together the sugar, Vegan Butter, vanilla extract, lemon extract, salt and cinnamon. Now whisk in the non-diary milk and lemon juice mixture from Step 1.
4) Build the batter and add the blueberries
Pour the wet ingredients into the bowl containing the dry ingredients and mix until just incorporated. The mixture may seem really thick. This is normal because the blueberries will excrete lots of moisture while baking. Stir in the blueberries.
5) Bake to perfection
To make muffins
Line a muffin pan with cupcake liners. Pour the batter into the muffin pan making sure the dough is filled up to the top of the pan and domed. Bake for 35 to 40 minutes or until an inserted toothpick comes out clean.
To make bread
Pour the batter into a lightly oiled 8 x 4 inch loaf pan and bake for about 1 hour and 10 minutes or until an inserted toothpick comes out clean.
Store in a covered container or plastic freezer bag in the refrigerator for up to 1 week or the freezer for up to 6 months. This recipe makes 1 loaf or 6 to 8 Vegan Blueberry Muffins.
User reviews
Sooo Delicious!!!
These were very good.... I bake a lot, so having this recipe on hand for breakfast is great!
Was this review helpful to you?
Just made a half recipe of these with frozen cherries. Substituted Cardamom for Cinnamon, had to use Earth Balance margarine. Came out wonderfully!
Was this review helpful to you?
I don't have whole wheat flour, only all purpose. Could I use that for both parts?
Was this review helpful to you?
My go-to blueberry bread recipe!
I first tried this recipe about a month ago when we were having friends over for dinner. I wanted to make something for dessert and we had some blueberries in the fridge that needed to be used up.
This bread was a HUGE hit. Everyone kept going back for more and before we knew it, we had finished off the entire loaf. I have a fresh loaf baking in the oven right now and I can't tell you how excited I am to have a slice with my coffee.

Was this review helpful to you?
Yum!
I really enjoyed baking this recipe as I love almost anything with blueberries! I very new to being vegan and baking for that matter and this recipe was great! Thanks!
Was this review helpful to you?
A deliciously sturdy recipe
I was missing some ingredients, but having blueberries and some no-kids-in-the-house time, I went for it, anyway.
I used 2 1/4 cups and 1 Tbsp of whole wheat flour, since I was out of AP flour. I didn't have any lemon extract or margarine. (Why did I try this?) But I used the Canola oil substitution given to another reviewer, and just omitted the lemon extract.
Fantastic!
These muffins came out a lot more moist than I expected (all the oil, maybe?), and definitely needs two hands to eat, but the taste is outstanding! Delicious! I can't wait to try these again, using the recipe as written, and taking the awesomeness up a notch. But clearly this recipe is solid and can handle substitutions like a pro. A definite fave!
Was this review helpful to you?
These are great!
I have made these twice now, once with wild blueberries and once with raspberries. They were both excellent.
Was this review helpful to you?
Excellent!
Went blueberry picking yesterday and made the blueberry muffins today... and boy were they yummy! My kids and non vegan family loved them too.
Was this review helpful to you?
could you use canola oil in place of the margarine?
Was this review helpful to you?