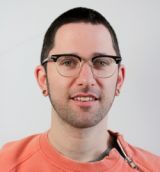 About Me
About Me
Please describe yourself

I'm a vegan baking freak and I work hard to make this site a place where like-minded people can compare notes and share eats. I'm obsessed with the hows and whys of food science.

I like to take a food, study it, break it down to it's smallest components, then build it back up again with no animal products while incorporating maximum flavor.

This whole breaking down food and building it back up thing I call "foodcrafting" and I do it with as many different foods I can get my hands on. It's amazing how understanding beer brewing science can make you a better bread baker for example.

The result of this is that Veganbaking.net is evolving from having a 100% baking content focus, to showcasing all vegan food.

What are your interests?

Baking and vegan food design, foodcrafting, food science, rediscovering the lost art of food production by hand, camping, friends, beer, home brewing, red wine, cycling, being surrounded by nature, getting lost in large cities, random adventures with random people, running Veganbaking.net.

What are your absolute favorite things to bake?

Pancakes, muffins, crusty artisinal hearth breads, pizza crust, ice cream, cake of any kind.

What are your favorite vegan baked items to eat?

Brownies, any kind of pie, any kind of cookies, french pastry, anything with chocolate.

What types of vegan baking are you trying to master?

Lately I've been super interested in gluten-free flour blends. I just might figure it out on my 147th try!

What kind of music have you been listening to lately?

Blaring punk rock, minimal techno and everything in between.

What shows or movies have you been into lately?

The Mighty Boosh, ALF, 30 Rock, Summer Heights High, The Office, It's Always Sunny in Philadelphia

What are your favorite books?

On Food and Cooking, The Bread Baker's Apprentice, The Secrets of Baking, Wild Fermentation, Baking Illustrated, Joy of Vegan Baking, The Professional Pastry Chef, How Baking Works, Understanding Baking, Designing Great Beers, Chocolates & Confections, Vegan Fusion World Cuisine,

What city do you live in?

What state do you live in?

What country do you live in?

Do you run any websites? If so, which ones?

What's your Twitter username?

What do you do for a living?
Member since

Saturday, 19 April 2008 21:28

Last online

5 days ago
These Savory Vegan Biscuits go great with homemade tomato soup. They're made with chickpea flour! These Savory Vegan Biscuits go great with homemade tomato soup. They're made with chickpea flour! Savory Vegan Biscuits Recipe ¼ cup chickpea flour ¼ cup spelt flour 1 teaspoon Ener-G Egg Replacer powder (1Tablespoon ground flax should work) ¼ teaspoon baking soda ½ teaspoon baking powder 1 teaspoon...

Great question marina.beijing! <br /> <br /> I actually wasn't aware that the world had so many different definitions for the "measuring cup". How scary! I can't believe that there are so many recipes relying on different versions of th...

Hi DonnaD! <br /> <br /> I don't recommend using soy milk or any other type of liquid in place of the tofu or cashews in the Vegan Vanilla Ice Cream. This is because it's critical that you have a solid food material as a base in an ice ...

Hi allergymom! forever amber is right- ground chia seeds work just as well as flax seeds in vegan baking. I recommend white chia seeds because they won't show up in most of your baked items, which makes them even better than flax seeds. I usually get...

Hi M.PAMM! In the US, I've only been able to find Spectrum Naturals and Cadia refined coconut oil. Luckily, they both are really good quality and I can't recommend one over the other. Even the unrefined coconut oils seem to be pretty consiste...

Hi goldieroo! I used dates to sweeten a muffin recipe here: Date Spice Muffins. You're right in that dates hold onto water more. This is likely due to longer chains of sugars called dextrins. It's the same reason why molasses will also result...

So glad it worked out Chmermul! I haven't made concentrated soy milk with soy milk powder. Sounds interesting! Here's hoping they invent a way to transport desserts via internet in 2014 ...

Hi Hana! I would definitely look into using agar powder to substitute for your eggs. Laurel is right in that eight eggs is a lot of eggs and nearly impossible to substitute in a vegan recipe without taking drastic measures. In this quiche reci...

I've always wanted to master tiramisu Babyloves Desserts! I'm working on too many projects to undertake it at the moment, but someone should definitely tackle it! If not, Nevertheless, I'll try to get to it soon!...

Hi Chmermul! As Babyloves stated, if you want a vegan fudge recipe that's been designed to be vegan from scratch, my Double Chocolate Fudge recipe is the one I recommend. I totally respect your decision to power through with your existing reci...