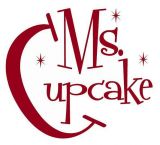 About Me
About Me
Please describe yourself

Ms. Cupcake is a sexy 1950's housewife with a dream of bringing sweet baked goodness to the mouths of everyone. She does the naughtiest vegan cakes in town.

What are your absolute favorite things to bake?

Brownies, layer cakes, scones, cookies, squares, bundts – but I'm really known for my cupcakes!

What city do you live in?

What country do you live in?

Do you run any websites? If so, which ones?

What's your Twitter username?
Member since

Sunday, 26 September 2010 09:59

Last online

5 years ago