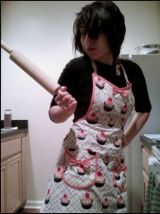 About Me
About Me
Please describe yourself

I started baking a year ago when I was bored to death with school and everything else that wasn't going on in life. Baking soon consumed all my free time and it has been awesome.

What are your absolute favorite things to bake?

cupcakes, cakes, cookies, cinnamon rolls, cheezecakes, pretty much anything!

What are your favorite vegan baked items to eat?

when i find vegan donuts, it is a happy day

What types of vegan baking are you trying to master?

breads and flaky pastries

What kind of music have you been listening to lately?

from System of a Down to Lady Gaga

What are your favorite books?

RANT by Chuck Palahniuk
and any of Isa Chandra Moskowitz's cookbooks.

What state do you live in?

What country do you live in?

What do you do for a living?
Member since

Wednesday, 01 September 2010 15:38

Last online

4 years ago