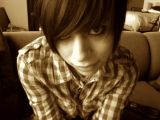 About Me
About Me
Please describe yourself

I have been a vegan for a little over a year now for health, ethical, and environmental reasons. I have been baking for 6 years and am super excited and passionate about vegan baking!

What are your interests?

Music
Animals
Vegan paraphernalia
Acting
Cooking/baking
My wonderful soul mate

What are your absolute favorite things to bake?

Cupcakes
Cookies
Caramel Popcorn
Muffins

What are your favorite vegan baked items to eat?

CUPCAKES!
Caramel Popcorn :D
Chocolate Chip Cookies

What types of vegan baking are you trying to master?

I am trying to work on making cakes and pies

What kind of music have you been listening to lately?

Punk
Alternative
Indie
Local seattle rock
Metal
Classic
Grundge
Techno/Electronica
Ska

What shows or movies have you been into lately?

True Blood
Vampire Diaries
Good Eats
Buffy the Vampire Slayer
Flapjack
Teen Titans
Ghost Whisperer
The Office
Underworld Trilogy
30 Days of night
Pirates of the Caribbean
J-DEPP + T-BURTON MOVIES

What are your favorite books?

Dracula
Sookie Stackhouse Books
Twilight Series
Skinny Bitch
Toni Morisson Books
Stephen King Books
The Vampire Chronicles by Anne Rice

What city do you live in?

What state do you live in?

What country do you live in?

Do you run any websites? If so, which ones?

What's your Twitter username?

What do you do for a living?
Member since

Tuesday, 17 August 2010 17:43

Last online

3 years ago