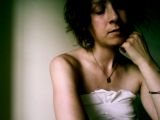 About Me
About Me
Please describe yourself

living my "one wild and precious life" and "tearing down the barn to see the moon" and then rebuilding it over and over. . . all with curiosity and wonder. . .

What are your interests?

yoga, bicycles, photography, artisinal food/items, flip-flopping, typewriters, frequenting farmer's markets, tea, photo journalism, exploring the world & curling up in corners

What are your absolute favorite things to bake?

scones, biscuits, rustic tarts, gf/vegan pizza, dark chocolate almond-butter muffins

What are your favorite vegan baked items to eat?

scones, anything with mulberries, heirloom popcorn, gingerbread, gf pizza

What types of vegan baking are you trying to master?

breads and muffins and the most perfect gf pizza crust ever (the toppings are definitely mastered)

What kind of music have you been listening to lately?

so many artists and kinds. . . whatever's good. . . and that's A LOT

What shows or movies have you been into lately?

i used to love sesame street but i haven't watched much since i was in kindergarden- the office, kitchen confidential, persuasion, broken english, food inc, labryinth, garbage warrior, any documentary

What are your favorite books?

impossible to even begin.
my dream is to live in an old barn with one entire long wall covered in floor to ceiling bookshelves and a rolling ladder. . .

What city do you live in?

What state do you live in?

What country do you live in?

What's your Twitter username?

What do you do for a living?
Member since

Saturday, 14 August 2010 15:04

Last online

5 years ago