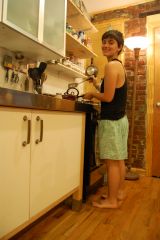 About Me
About Me
Please describe yourself

What makes me tick: reading, doing, feeling, thinking, singing

Passions? FOOD! anarcha-feminism...and animal rights.

What are your interests?

community, interdependence, trying new things, mangoes, music

What are your absolute favorite things to bake?

cinnamon rolls. cake!

What are your favorite vegan baked items to eat?

bread! fresh cinnamon rolls are a close second.

What types of vegan baking are you trying to master?

Bagels.

Also, I'm a bit intimidated by vegan cheesecakes.

What city do you live in?

What state do you live in?

What country do you live in?

What do you do for a living?
Member since

Monday, 19 July 2010 12:31

Last online

5 years ago