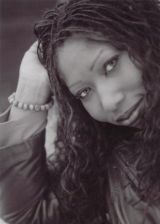 About Me
About Me
Please describe yourself

My name is Kiki and I am from Chatsworth located in the San Fernando Valley of California . Growing up with parents who emmigrated from Jamaica, a grandpa that owned his own bakery, we had tons of family over constantly, which meant that there would always be something good to eat at home. The beef patties, ox-tail stew over rice, curry goat, and jerk chicken were some of the favorite meals cooked very often at the house. Eating these foods led to me being a chubby little girl throughout childhood, although I wasn't obese, I definately had some junk in my trunk.

November 2, 2005 was the wonderful birth of our beautiful daughter. Because of my obesity at this point in life, I was considered high-risk. I was diagnosed with preeclampsia, on the verge of gestational diabetes, and had a UTI. After being in labor for 24 hours and then 3 hours of pushing, I bled 6 units of blood (the average human being needs 10). After this near-death experience my health problems did not stop. I was a brand new mother weighing 320 pounds not being able to really walk or hold my child for longer than 5 minutes at a time. I have chronic pancreatitis and feel terrible sharp pain when I eat fatty and processed foods. I have basically come to a point in my life where I now realize nothing has worked to improve my health. With this in mind I began researching nutrition and the causes of poor health. Having tried every diet in the book I've turned to the un-thinkable...eliminating all meat, dairy, and animal products; aka vegan.

Why vegan? Vegan is healthier. Animal fats create free radicals in your body which cause many number of diseases including cancer. Animal products fill our bodies with cholesterol, saturated fat, and other unnecessary and dangerous products. Vegetables, grains, and other plant-based products supply us with all of the needed protien, vitamins, nuttrients and energy necessary for a healthy and happy life. Being vegan helps me to have control over my health and not rely on pharmaceuticals. As a result of being a vegan it has aided in my weight loss and has made it a lifestyle and not a diet for me. My attitude emotionally and spiritually have improved very much as well. I realized that "half way" is a dead end. In order to be healthy and happy, you can't go into this eating dairy or eggs. You have to be fully committed, because even the smallest amount of poison will kill you over time.

What are your interests?

singing opera and musical theatre, acting, dancing, cooking, spending time with the family, blogging

What kind of music have you been listening to lately?

Opera it's a toss up between Puccini, Verdi, and Dvorak.

What shows or movies have you been into lately?

I love Clueless...best movie ever :)

What state do you live in?

What country do you live in?

Do you run any websites? If so, which ones?

What do you do for a living?
Member since

Thursday, 10 June 2010 12:36

Last online

5 years ago
My Favorites
No entries were found
My Reviews
No entries were found
My Listings
No entries were found