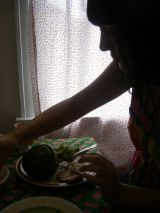 About Me
About Me
Please describe yourself

My life is a constant work in progress and I wouldn't have it any other way.

What are your interests?

Biking, baking, beer, community events, turn of the century and mid-century culture, collecting Pyrex bakeware and VHS tapes, spending hours at the library, boogie nights, new friends & new adventures.

What kind of music have you been listening to lately?

Everything! East coast hardcore and old school punk rock to classic 70's soul & funk and everything in between.

What shows or movies have you been into lately?

Seinfeld, Curb Your Enthusiasm, most 90's standup comedy, Stranger Than Fiction, The Wedding Singer, Shawshank Redemption, Goodfellas, Tootsie, Jackie Brown, Pulp Fiction

What are your favorite books?

Lots of A.M. Homes right now.

What city do you live in?

What state do you live in?

What country do you live in?

Do you run any websites? If so, which ones?
Member since

Tuesday, 25 May 2010 13:52

Last online

5 years ago