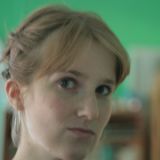 About Me
About Me
Please describe yourself

I can out-crochet you and probably out-drink you. I like to wear frilly aprons when I bake and short skirts when I go out. I went to Catholic school and played poker for money during recess. I enjoy museums and cheating my way into them for free. One of my proudest moments was holding my Godchild as he fell asleep in my arms. One of my other proudest moments was beating a pool shark at his beloved game.

What are your interests?

Billiards, watching football, crocheting/knitting, writing, reading, biking, getting lost, hustling, drinking coffee and beer, sometimes simultaneously, randomly quitting jobs to go on vacations, leaving workplaces to play in the park (no, seriously), being impulsive, playing hooky to read in bed, telling stories, listening to stories.

What kind of music have you been listening to lately?

Badly Drawn Boy, Creedence Clearwater Revival, Bobbie Gentry, Decemberists, Shins, Walkmen, Wilco, Simon and Garfunkel, Radiohead, Beat the Devil, Belle and Sebastian, Nick Drake, Nina Simone, Etta James, Rolling Stones, Sam Cooke, Shea Seger, Gomez, Fleetwood Mac, Johnny Cash, Arcade Fire

What shows or movies have you been into lately?

Office Space, The Godfather, Old School, Lost in Translation, Rain, The Color of Money, All the President's Men, Butch Cassidy and the Sundance Kid, Chinatown, The Hustler, Any Given Sunday, Diner, Ordinary People, Harold and Maude, The Great Gatsby, Before the Rain, The Graduate, Tommy Boy, 2001: A Space Odyssey, Life as a House, Fear and Loathing in Las Vegas, Fight Club, Cool Hand Luke, The 25th Hour, Eternal Sunshine of the Spotless Mind, The Sting, Half Nelson, Manhattan, Masculin Feminin, An Affair to Remember, Breakfast at Tiffany's, Hannah And Her Sisters, The Puffy Chair, Limelight

FOOTBALL, The Office, Arrested Development, 30 Rock, Parks and Recreation, Conan, It's Always Sunny in Philadelphia. Have I mentioned football?

What are your favorite books?

The Blind Assassin, The Ambassadors, All the King's Men, Slouching Towards Bethlehem, Lucy Gayheart, Under the Volcano, The Sound and the Fury, Summer, Palm Sunday, The Great Gatsby, To the Lighthouse, The Waves, Angle of Repose, Franny and Zooey, Lolita, Spring Snow, Lord Jim, Portrait of a Lady, The Prophet, I Remember Running, The Sun Also Rises, The Golden Notebook, The Sheltering Sky, Letters to a Young Poet, The Princesse de Cleves, The Count of Monte Cristo, The Maytrees.

and anything by Malcolm Lowry, Woolf, Conrad, James, Durrell and Knut Hamsen and a billion others...I was an English major...

What city do you live in?

What state do you live in?

What country do you live in?

Do you run any websites? If so, which ones?

<a href="http://aliciakachmar.com/blog" target="_blank" rel="nofollow">http://aliciakachmar.com/blog</a>

What do you do for a living?
Member since

Friday, 26 February 2010 10:49

Last online

5 years ago
My Favorites
No entries were found
My Reviews
No entries were found