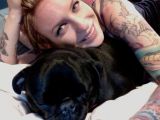 About Me
About Me
Please describe yourself

large appetite!

What are your interests?

art, tattoos, cooking, reading, new things always

What kind of music have you been listening to lately?

go easy on the screaming, and cash is as country as I go.

What shows or movies have you been into lately?

TV?

What are your favorite books?

varied taste!

What city do you live in?

What state do you live in?

What country do you live in?

Do you run any websites? If so, which ones?

What do you do for a living?
Member since

Wednesday, 03 February 2010 20:55

Last online

5 years ago
My Favorites
No entries were found
My Reviews

"sooo first off, this website is amazing! So good..."
My Listings
No entries were found