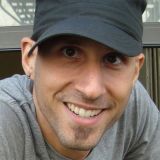 About Me
About Me
Please describe yourself

Simple living in a complex city through urban gardening, raw foods and being green.

What are your interests?

nature, environment, outdoors, raw foods, urban gardening, music

What kind of music have you been listening to lately?

glam rock, old school rap, 80s pop, 90s grunge, 60s British invasion

What shows or movies have you been into lately?

Spaceballs, Revenge of the Nerds, Three's Company, Married...with Children

What are your favorite books?

The Greatest Salesman in the World, The Heroin Diaries, The Power of the Subconscious Mind

What city do you live in?

What state do you live in?

What country do you live in?

Do you run any websites? If so, which ones?
Member since

Tuesday, 29 September 2009 05:43

Last online

6 years ago