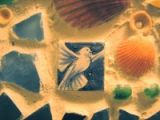 About Me
About Me
Please describe yourself

50ish animal/food activist; watcher of nature ( birds in particular ! ); mother of two fabulous grown children ; wife to a great and supportive guy

What are your interests?

advocating for the animals by promoting a vegan lifestyle, cooking, baking; yoga practice; birdwatching; making art in various media including watercolor, acyrlic, tiles...gardening, reading vegan cookbooks, reading about animal rights, tabling at events

What kind of music have you been listening to lately?

i'm in love with music being made for and used in yoga practice

What shows or movies have you been into lately?

hmmm...Life Is Beautiful; Winged Migration; just about anything with Jack Nicholson in it

What are your favorite books?

most recently: The Wauchula Woods Accord, The White Bone, Living On The Wing....

What city do you live in?

What state do you live in?

What country do you live in?

Do you run any websites? If so, which ones?

What do you do for a living?
Member since

Saturday, 05 September 2009 03:54

Last online

2 years ago
My Favorites
No entries were found
My Listings
No entries were found