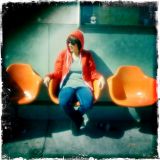 About Me
About Me
Please describe yourself

I guess you could say I'm adventures. I'm known to get a wild hair every once and awhile. I'm sacrificing everything to put myself through nursing school. I miss the West Coast terribly. I have grown to love green chiles while living in New Mexico.

What are your interests?

Currently: sustainable living...one day,non-gmo,organic,ayruvedic medicine,biking,getting the hell out of Las Cruces!!!!

What kind of music have you been listening to lately?

I like it LOUD...

What shows or movies have you been into lately?

Top Chef, Dexter. Some recent documentaries I watched and recommend are: Garbage Warrior,Food Matters,and The Beautiful Truth.

What are your favorite books?

Miles from Know where

What city do you live in?

What state do you live in?

Do you run any websites? If so, which ones?

What do you do for a living?
Member since

Sunday, 23 August 2009 04:57

Last online

3 years ago