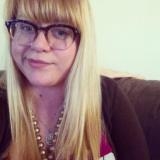 About Me
About Me
Please describe yourself

Good old girl from Kentucky. Happy to be alive and happy to be able to live life.

What are your interests?

Baking, Biking, Embroidery, Crocheting, My Pups, Organizing, Cooking

What are your absolute favorite things to bake?

Cakes, Cupcakes, anything new! Always trying new things

What are your favorite vegan baked items to eat?

Pies, Cheesecakes

What types of vegan baking are you trying to master?

Cakes, Breads, Pastries

What kind of music have you been listening to lately?

Everything from Modest Mouse to Mos Def to Punch Brothers to Operation Ivy

What city do you live in?

What state do you live in?

What country do you live in?

What's your Twitter username?

What do you do for a living?
Member since

Tuesday, 05 March 2013 11:03

Last online

3 years ago
I was a regular baker/cake decorator in my previous life (newly vegan by two months) and am trying to get all the ins and outs. Super excited to have come across this website, and I look forward to getting some delicious recipes.