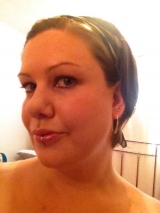 About Me
About Me
Please describe yourself

I'm a single woman living with a friend and our furry brood of 7. I drive trains for a living and have been vegan for 2 years.

What are your interests?

Reading, writing, walking, collecting recipes, cooking, travelling, photography, architecture

What are your absolute favorite things to bake?

Pie

What are your favorite vegan baked items to eat?

Cookies and cake!

What types of vegan baking are you trying to master?

All of it

What kind of music have you been listening to lately?

Anything but drum n bass, raggae and jungle

What shows or movies have you been into lately?

Forks Over Knives, Underworld, Interview with the Vampire, Fifth Element, True Blood

What are your favorite books?

Anne Rive Vampire chronicles, LOTR, Tess Gerritsen

What city do you live in?

What state do you live in?

What country do you live in?

What's your Twitter username?

What do you do for a living?
Member since

Monday, 11 February 2013 17:20

Last online

3 years ago
My Favorites
No entries were found
My Reviews
No entries were found
My Listings
No entries were found