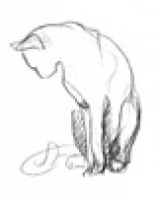 About Me
About Me
Please describe yourself

Mom of two fabulous boys (7 years and 14 months), author, illustrator, ceramicist, cat lover, animal and nature lover, avid reader...

What are your interests?

Books, vast array of music, shark conservation, saving the frogs, quiet places, the sea, the bushveld. too much to mention.

What are your absolute favorite things to bake?

Bread.

What are your favorite vegan baked items to eat?

Flat bread, fairy cakes, shortbread.

What types of vegan baking are you trying to master?

Cakes.

What kind of music have you been listening to lately?

Classical, Kate Bush, Loreena McKennit, Jose Cura, Opera and Symphony, Queen, Jethro Tull. Also too may to mention.

What shows or movies have you been into lately?

Midsomer Murders, Inspector Morse, Masterchef, Mentalist

What are your favorite books?

Charles Dickens (anything), historical, especially ancient world, PD James, Agatha Christie

What country do you live in?

What's your Twitter username?

What do you do for a living?
Member since

Tuesday, 05 February 2013 01:56

Last online

Never logged in.
My Favorites
No entries were found
My Reviews
No entries were found
My Listings
No entries were found