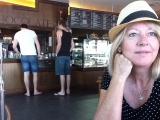 About Me
About Me
Please describe yourself

Newbie vegan

What are your absolute favorite things to bake?

Biscuits, cheesecakes. Special occasion stuff

What are your favorite vegan baked items to eat?

Biscuits

What types of vegan baking are you trying to master?

Basic ingredients...butter, egg replacements etc

What country do you live in?

What do you do for a living?
Member since

Friday, 01 February 2013 23:57

Last online

3 years ago
My Favorites
No entries were found
My Reviews
No entries were found
My Listings
No entries were found