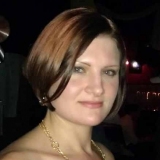 About Me
About Me
What are your interests?

Dancing

What are your absolute favorite things to bake?

Cookies, cakes

What are your favorite vegan baked items to eat?

All of them ;-p

What city do you live in?

What state do you live in?

What country do you live in?

What do you do for a living?
Member since

Wednesday, 16 January 2013 06:05

Last online

3 years ago
A recipe from Triumph of the Lentil: Soy-Free Vegan Wholefoods for all Appetites. Don't be fooled by the zucchini in the title. This is actually a decadent tasting mud cake. Made in a bundt pan it is thin and crispy on the outside and moist and dense on the inside, so much that it doesn't need any icing or accompaniments. To make it a bit fancier-looking you could drizzle it with melted...
My Reviews
No entries were found
My Listings
No entries were found