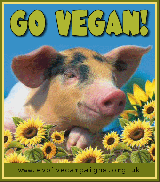 About Me
About Me
Please describe yourself

59 years of age and have been tried to be a Vegan many times. Cruelty to animals sets me off like nothing else.

What are your interests?

study of food and health and homeopathy. Alternative medicines and home remedies. cake decorating

What are your absolute favorite things to bake?

Bread and sugar free cookies.

What are your favorite vegan baked items to eat?

Cake.

What types of vegan baking are you trying to master?

the use of vegetables in cake making such as beans and beetroot.

What kind of music have you been listening to lately?

Jazz , Portuguese Fado., Afrikaans balads.

What shows or movies have you been into lately?

Detective and true drama.

What are your favorite books?

Esoteric. world religions, and mostly non fiction.

What city do you live in?

What state do you live in?

What country do you live in?

What do you do for a living?
Member since

Friday, 11 January 2013 12:02

Last online

3 years ago
My Favorites
No entries were found
My Reviews
No entries were found
My Listings
No entries were found