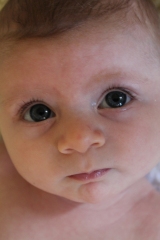 About Me
About Me
Please describe yourself

I'm a vegan pastry chef and new mama. I love re-exploring the world through my daughter's eyes and I love make desserts that make people go wild.

What are your interests?

baking, photography, knitting, gardening, mothering, writing

What are your absolute favorite things to bake?

cheesecake, cookies, mousses

What are your favorite vegan baked items to eat?

scones, muffins, cookies

What types of vegan baking are you trying to master?

I am trying to duplicate french patisserie, techniques I learned in culinary school, while veganizing them. Right now I'm focusing on custard type dishes (mousse, cheesecake, pastry cream, creme brule

What kind of music have you been listening to lately?

favorite type: reggae

What shows or movies have you been into lately?

Breaking Bad, How I met your mother, Rounders

What are your favorite books?

Wuthering Heights, Brother's K, The Name of the Wind, Amazing Adventures of Kavalier and Clay, Peace like a River...

What city do you live in?

What state do you live in?

What country do you live in?

Do you run any websites? If so, which ones?

<a href="http://thesweetlifeonline.blogspot.com/" target="_blank" rel="nofollow">http://thesweetlifeonline.blogspot.com/</a>

What's your Twitter username?

What do you do for a living?
Member since

Friday, 18 May 2012 10:55

Last online

4 years ago
My Favorites
No entries were found
My Reviews
No entries were found