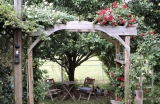 About Me
About Me
Please describe yourself

Just an old lady. Husband just had a heart attack. He has been put on a very strict diet. If it has a face and a mother we can't eat it. Including oils. We are doing this together and I need help

What are your interests?

Reading, swimming, grandchildren, gardening

What types of vegan baking are you trying to master?

Just getting started. Never thought we'd need it. Beads and cookies

What kind of music have you been listening to lately?

Pop

What shows or movies have you been into lately?

PBS

What are your favorite books?

Too many.

What state do you live in?

What do you do for a living?
Member since

Saturday, 21 April 2012 14:26

Last online

4 years ago