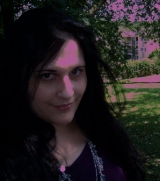 About Me
About Me
Please describe yourself

I'm a product of my experiences and the choices I've made: a work in progress...

What are your interests?

Cooking, Art, Reading, Exploring, Equal Rights, Animal Rights,

What are your absolute favorite things to bake?

Personal or bit sized items, like cupcakes or muffins.

What are your favorite vegan baked items to eat?

It just depends on how I feel that day.

What types of vegan baking are you trying to master?

I want to master it all!

What kind of music have you been listening to lately?

Alternative Rock and Instrumental mostly.

What shows or movies have you been into lately?

Simpsons, Archer, 30 Rock, How I Met Your Mother....Breakfast At Tiffany's, Love Actually, Scott Pilgrim vs The Works, Repo!

What state do you live in?
Member since

Tuesday, 17 April 2012 15:51

Last online

12 months ago
I made this cake this in the form of cupcakes and used my own frosting. The cake had a very nice texture and was moist. While I would rank it well above the box mixes I used once upon a time, it was missing something in the flavor department. I used water and not coffee, so maybe that would have given it the extra something-something I was looking for. Thanks for...

So many of the ones you can find in the store aren't very transparent about ingredients. I can find easy ones like pure Vanilla and Almond, but if I want something like Watermelon, Coconut, Cotton Candy, or Root Beer then its hard for me to tell. T...

Great information. Thanks for your help!...

What should I look for in a recipe if I want to make it ahead of time and freeze? Or what ingredients should I avoid freezing? Items like cookie dough, or baked cupcakes/muffins for example. What makes a recipe ok to freeze?...

Mattie, I am so glad I stumbled upon your site. I've already found some great information in your Resources section. I have a feeling this site is going to be on my daily visit list. I really appreciate the time and detail you put into your answer. It makes a lot of sense to start with traditional food science. Thanks for the list. I ...

I'm great at baking with a recipe. I can even put my own spin on recipes I find. What I want to be able to do is start creating my own recipes from scratch. I feel like this involves understanding more about the chemistry of how different ingredients react to one another. While I would love to go to a vegan culinary school, I don't have the mo...
My Favorites
No entries were found
My Listings
No entries were found