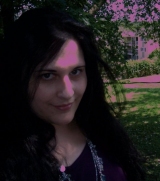 About Me
About Me
Please describe yourself

I'm a product of my experiences and the choices I've made: a work in progress...

What are your interests?

Cooking, Art, Reading, Exploring, Equal Rights, Animal Rights,

What are your absolute favorite things to bake?

Personal or bit sized items, like cupcakes or muffins.

What are your favorite vegan baked items to eat?

It just depends on how I feel that day.

What types of vegan baking are you trying to master?

I want to master it all!

What kind of music have you been listening to lately?

Alternative Rock and Instrumental mostly.

What shows or movies have you been into lately?

Simpsons, Archer, 30 Rock, How I Met Your Mother....Breakfast At Tiffany's, Love Actually, Scott Pilgrim vs The Works, Repo!

What state do you live in?
Member since

Tuesday, 17 April 2012 15:51

Last online

3 years ago
My Favorites
No entries were found
My Listings
No entries were found