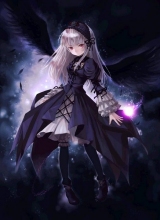 About Me
About Me
Please describe yourself

My favourit whereabouts in my flat are my bed and the kitchen. I love to bake and at the weekends I love to sleep.

What are your interests?

Baking, books, meeting with friends

What are your absolute favorite things to bake?

muffins, cupcakes, cakepops, cookies, pies, cakes, cookies ...

What are your favorite vegan baked items to eat?

Oh ... I bake, my family and friends have the task to eat all my baked goods ;)

What types of vegan baking are you trying to master?

vegan cakepops

What kind of music have you been listening to lately?

30 Sekonds To Mars, Linkin Park, Evanesence

What shows or movies have you been into lately?

Big Bang Theory, Fringe

What are your favorite books?

Thrillers

What city do you live in?

What state do you live in?

What country do you live in?
Member since

Thursday, 29 March 2012 12:09

Last online

3 years ago
Hello, Last week I tried to make vegan cakepops. The cake and the frosting were no problem. Instead of the candy melts from Wilton I used rice-chocolate from Sweet William but the rice-chocolate-coating didn´t harden again at room-temperature. Once they were inside my fridge the coating solified. Any ideas what I could use to make colourful ea...
My Favorites
No entries were found
My Reviews
No entries were found
My Listings
No entries were found