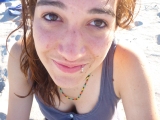 About Me
About Me
Please describe yourself

Love painting and art crafts. Love cooking, baking bread and experimenting with ingredients and inventing recipes. Enjoy doing outdoor activities and travelling.

What are your interests?

Art, music, vegan cooking, social issues and protecting the environment.

What are your absolute favorite things to bake?

Bread definitely

What are your favorite vegan baked items to eat?

Cakes, bisquits and breads

What types of vegan baking are you trying to master?

Bread and cakes. Interested into trying to make a vegan butter and improve my vegan ice cream

What kind of music have you been listening to lately?

Some reggae, alternative experimental bands like Cocorosie, latinamerican music and a bit of good spanish rap

What city do you live in?

What country do you live in?

What do you do for a living?
Member since

Sunday, 20 November 2011 22:12

Last online

4 years ago