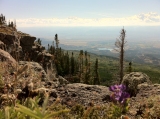 About Me
About Me
Please describe yourself

I've recently moved to a small town in Western CO, and as a vegan, I'm definitely in the minority! I like hiking, being outdoors, and spending time with my family.

What are your interests?

Family, outdoors, animals, riding my motorcycle, vegan cooking and baking

What are your absolute favorite things to bake?

Anything that tastes good and makes my guys happy!

What kind of music have you been listening to lately?

311, Rock, punk, ska, reggae

What shows or movies have you been into lately?

Sons of Anarchy, Chelsea Lately,

What are your favorite books?

Veganomicon

What city do you live in?

What state do you live in?

What country do you live in?

What do you do for a living?
Member since

Monday, 24 October 2011 18:36

Last online

4 years ago
My Favorites
No entries were found
My Reviews
No entries were found
My Listings
No entries were found