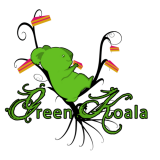 About Me
About Me
Please describe yourself

Green Koala believes "We are what we eat". When we feed our body we also feed our mind and emotions. To feel alive we must eat food bursting with life and this is why we emphasize raw and plant based food. So try our Blueberry Squish cake and you'll see what it's all about!

Koala Vert croit fortement qu'on est ce qu'on mange. Lorsqu'on se nourrit on nourrit aussi nos emotions. Pour nous sentir en vie nous devons manger des aliments qui sont débordant de vie et c'est pour cela que nous offront des produits crus et végétaliens

What city do you live in?

What country do you live in?

Do you run any websites? If so, which ones?

<a href="http://www.greenkoala.ca" target="_blank" rel="nofollow">http://www.greenkoala.ca</a>

What's your Twitter username?

What do you do for a living?
Member since

Friday, 09 September 2011 11:02

Last online

4 years ago
Mangochoco vegan gluten-free cake! Gâteau Manguechoco végétalien sans gluten

Maila's banana chocolate birthday cake. Vegan, gluten-free and nut-free.
Gateau de fête pour Maila, bananes chocolat. Végétalien, sans gluten et sans noix!

Journée Koala Vert, experiémentation de nourriture. Caramel végétalien! Photos à venir!
GreenKoala food testing day! Vegan caramel anyone? pics to come!