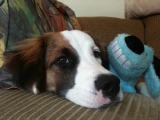 About Me
About Me
Please describe yourself

Happy Vegan, wife, mother of Kai and caretaker of 3 dogs and 2 guinea pigs:)

What are your interests?

Family, friends, animals, health, reading

What are your absolute favorite things to bake?

rice crispy treats, banana chia muffin tops, sugar cookies and chocolate chip cookies and lemon bars(all vegan)

What are your favorite vegan baked items to eat?

Muffin tops(I love the chia) and lemon bars

What types of vegan baking are you trying to master?

cheesecake, frosting and cupcakes. Had some vegan, raw lemon bars in Chicago and I can't seem to master them.

What kind of music have you been listening to lately?

just about everything. Love Jonsi and Alex, Sigur Ros.

What shows or movies have you been into lately?

House MD, Eureka, and Netflix(indie and foreign)

What are your favorite books?

All books by Andrew Linzey and Rob Bell

What city do you live in?

What state do you live in?

What country do you live in?

What do you do for a living?
Member since

Thursday, 11 August 2011 13:53

Last online

4 years ago
My Favorites
No entries were found
My Reviews
No entries were found
My Listings
No entries were found