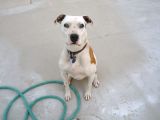 About Me
About Me
Please describe yourself

Backsliding Vegan attempting to get back on the horse.

What are your interests?

CUPCAKES!!! Triathlon, literature, live music, live theater...even better: live musical theater!

What are your absolute favorite things to bake?

Lemon cupcakes, banana bread, sweet potato cornbread...I know, a lot of quickbreads. I'm a hard-working mom and don't have a ton of time.

What are your favorite vegan baked items to eat?

Sweet potato pie, brioche, peach cobbler, lemon desserts of all kinds, keylime pie!

What types of vegan baking are you trying to master?

Pastry would be awesome...is it even possible?

What kind of music have you been listening to lately?

Jazz, soul, funk, country love ballads (I can listen to ballads in just about any genre of music)

What state do you live in?

What country do you live in?
Member since

Tuesday, 19 April 2011 10:12

Last online

5 years ago
My Favorites
No entries were found
My Reviews
No entries were found
My Listings
No entries were found