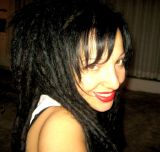 About Me
About Me
Please describe yourself

Hey! My name is Sylvia and I love to bake, cook, uncook and eat delicious vegan yummies:) I've been vegan for about 5 years now, vegetarian for roughly 7 years before that:) I'm stoked that I came across this site, it's nice to see something dedicated to vegan baking:)

What are your interests?

I'm into holistic health and fitness and believe in balance and being good to ourselves! When I'm not messing around in my kitchen, I'm usually playing or writing music, which happens to be my other passion...but that's another story;)

What are your absolute favorite things to bake?

I love to bake everything! Lately I've been working with gluten free flours (mixing them) and have made some pretty bomb cupcakes!

What are your favorite vegan baked items to eat?

Hmmmmm... I think it really depends on my mood:)

What types of vegan baking are you trying to master?

Pastries, loaves and figuring out how the heck to make my muffins rise into those beautiful dome like tops!!

What kind of music have you been listening to lately?

Kiiiiinda stuck in the 90's.. ;) Anything that was born out of Seattle, good old trip hop (massive attack, portishead, tricky, etc), classical, tonnnns of jazz and reggae:)

What shows or movies have you been into lately?

Not much of a TV watcher but usually if i'm going to watch tv, it's going to be a good documentary or family guy. Fave movie of all time: Reality Bites!

What city do you live in?

What state do you live in?

What country do you live in?

What do you do for a living?
Member since

Monday, 07 March 2011 12:38

Last online

5 years ago