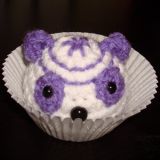 About Me
About Me
Please describe yourself

I'm a 25 year old baking addict from England.
I've been Vegan for just over 3 years, and a Vegetarian for as long as i can remember.

What are your interests?

Vegan Baking!
Photography.
Reading anything and writing anything.

What are your absolute favorite things to bake?

Cupcakes, Muffins, Carrot Cake and Cookies.

What are your favorite vegan baked items to eat?

Cookies and Biscuits.
Vegan Carrot cake.

What types of vegan baking are you trying to master?

Bread is a challenge. It never seems to bake evenly.
I'm also trying to master flavours and find new combinations that work.

What kind of music have you been listening to lately?

Snow Patrol and Sigur Ros.

What shows or movies have you been into lately?

Hairy Bikers, Master Chef, Baking Made Easy.

What are your favorite books?

Stargirl.
The Teacher, Teacher series.

What do you do for a living?
Member since

Friday, 18 February 2011 01:36

Last online

5 years ago