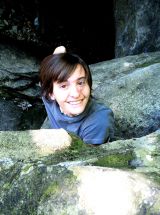 About Me
About Me
Please describe yourself

I'm 20 and I'm attending Appalachian State University in Boone, NC.
I got into vegan baking because my roommate can't eat dairy products (or gluten!), but I've always loved baking so I adjusted my techniques so she could eat what I made. I've really grown to love baking vegan because it's creative and challenging and I tend to be more intimate with the process...(Of course, this does not make me a vegan at all times.)

What are your interests?

Baking and cooking, hiking, backpacking, camping, manual labor, running, wandering, researching new things

What are your absolute favorite things to bake?

Bread, because I love kneading the dough and I love the smell of fresh bread baking in the oven.

What are your favorite vegan baked items to eat?

Love bread and various cakes..
Also like making vegan and gluten-free pizza.

What types of vegan baking are you trying to master?

Really anything

What kind of music have you been listening to lately?

everything! except country

What shows or movies have you been into lately?

Into the Wild, A Beautiful Mind, 127 Hours, In Bruges.....etcetera

What are your favorite books?

The Sun Also Rises, The Old Man and the Sea, For Whom the Bell Tolls, The Road, Dharma Bums, 100 Great Breads, Heart of Darkness, All the King's Men, The Giver, Catch-22....et cetera

What city do you live in?

What state do you live in?
Member since

Wednesday, 09 February 2011 08:53

Last online

3 years ago