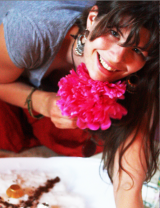 About Me
About Me
Please describe yourself

Im a raw dessert chef that makes dessert for a living.

What are your interests?

Horseback riding (natural horseman ship), walking in the nature, photografing, food, singing, belly dancing, spirituality and more..

What are your absolute favorite things to bake?

raw cheezecakes, pies and cookies

What are your favorite vegan baked items to eat?

Herbal bread!

What types of vegan baking are you trying to master?

All raw things

What kind of music have you been listening to lately?

Lots! Sofisticated/full on techno, irish folk music (Loreena McKennitt), Alanis M, Creedence, sometimes Lou Reed, the Corrs, The Cranberries, Red hot chilipeppers.. and more.

What shows or movies have you been into lately?

don't watch tv

What are your favorite books?

Conversations with god, everything with Tolle, Anthony Robbins..

What country do you live in?

Do you run any websites? If so, which ones?
Member since

Thursday, 02 December 2010 02:15

Last online

4 years ago
My Favorites
No entries were found
My Reviews
No entries were found