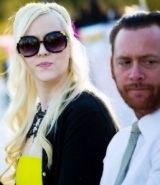 About Me
About Me
Please describe yourself

I love to cook and bake vegan stuff in the kitchen my husband built from scratch.

What are your interests?

I love fuzzy dogs, running, boxing, mid-century modern, real estate, art, vintage clothing, classic cars, twins, friendship bracelets, platform shoes (even though I am 5'10"), sunsets, gardening

What are your absolute favorite things to bake?

Cakes, cookies, scones, muffins...

What are your favorite vegan baked items to eat?

Everything

What types of vegan baking are you trying to master?

White chocolate and French macaroons

What kind of music have you been listening to lately?

Mostly indie music....Deer Tick, Tennis, Best Coast, Tame Impala, Harlem, Dent May, Sufjan Stevens. I also like old ska, rockabilly, jazz and garage

What shows or movies have you been into lately?

My favorite movie is As Good As It Gets.

What are your favorite books?

I need to get myself a Kindle.

What state do you live in?

What country do you live in?

Do you run any websites? If so, which ones?
Member since

Friday, 19 November 2010 15:05

Last online

3 years ago