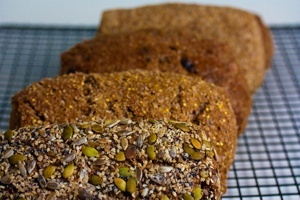 Around 150 years ago it became cost effective to mass mill grains into the shelf stable product we know of as flour. Since this time, a host of health related anomalies have been occurring in the United States. The beginning of the mass production of food is regarded as marking the beginning of the Standard American Diet, or more appropriately named, the SAD diet. These health issues are likely caused by products containing flour and sugars that, after they're quickly digested, turn into a flash flood of sugar that our bodies aren't capable of handling multiple times a day. To reduce having major health issues later in life, we'd like to remind you that highly processed foods should be enjoyed in moderation. When you're not overindulging in desserts, It's a good idea to eat natural food that is minimally processed and provides consistent energy without spiking your blood sugar. Luckily, this can be done while still eating amazing food. Enter Manna Bread.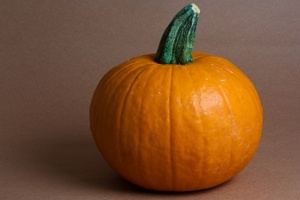 During the Fall there are few things better than pumpkin infused treats like
pumpkin pie
,
pumpkin muffins
and
pumpkin cookies
. Probably the least understood part of making these treats is getting the pumpkin purée out of the pumpkin. There are lots of different ways to make pumpkin purée. Some methods use boiling pumpkin chunks in water, others use baking the pumpkin in the oven. Still other methods detail using the microwave. Each method has it's pros and cons. Read on to find out how to select the best pumpkin and recommended steps for making good quality pumpkin purée.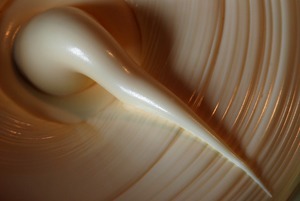 I love baking with vegan margarines like
Earth Balance
because they taste almost as good as butter and contain no hydrogenated oils. Hydrogenated oils are oils where hydrogen is forced into oil at high pressure. This chemically changes the unsaturated fatty acids into saturated ones. The benefit of this is that the oil is solid at room temperature and has an extended shelf life. The drawback of this is that trans fats are created during this process. In the 1980's food scientists began to notice adverse health affects associated with trans fat intake. This finding has led to a disaster in the food industry as food processors scramble to re-engineer their food to forgo hydrogenated oils but allow them to retain their flavor, shelf life, consistency and profit margins.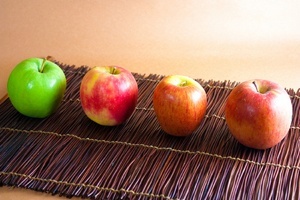 One of the reasons Fall is the best time of year for baking is the plethora of fruits and vegetables that have been growing to perfection all summer. Of these, apples are one of the most appreciated and varied. It's common to dedicate a whole afternoon to apple picking, searching for our favorite varieties in nature's perfect form and discovering new varieties along the way.
Read on for my recommendations for the best apple varieties to use for baking your
apple pie
,
strudel
,
apple butter
,
apple cake
,
apple galette
, etc.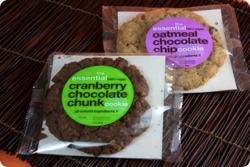 These little beauties were picked up recently at the local health food store. Actually they weren't little by any means, measuring about four inches across. They're from
Cindy Klotz Productions
which is a secret vegan cookie lab located inside a volcano guarded by unicorns. Ok, we just made that last part up. But there is no website info on the cookie and we're a little dumbfounded as to where to find more information about these cookies. A website that made us feel all warm and snuggly while at the same time describing their cookies would be a great place to start.
Update: Cindy Klotz Productions now has a
website
!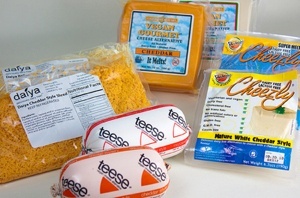 When it comes to things like pizzas, it's a good idea to increase the fun factor by topping it with some vegan cheese. Vegan cheeses have improved vastly over the last decade and it's often difficult to keep up with the latest offerings. I've always wondered how vegan cheeses would fair side by side in regards to flavor, meltiness and overall authenticity. In this review I'll show you how well these cheeses faired in those regards and let you know which topping came out on top.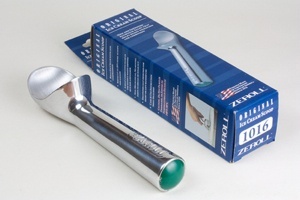 I used to think that ice cream scoops were kind of a joke. Why not just use a spoon and run it under warm water before for the best scooping action? That's all fine and dandy if you just want to get ice cream into a bowl. There's something to be said about presentation though, especially when it comes to desserts. As humans, we're very visual when it comes to interpreting things like food and this does make a difference with how food is perceived. You might only be concerned with getting ice cream into your mouth with the least amount of effort but if you're interested in making the best possible eating experience then it's a good idea to pay attention to your visual presentation. Also if you frequently serve ice cream, convenience is key. When it comes to ice cream this is where the
Zeroll
Original Ice Cream Scoop comes in.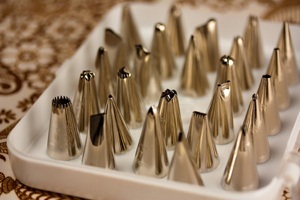 By now you may have decided to try this whole vegan baking thing and unlike most other hobbies, noticed how satisfying it is to voraciously consume the results when it works out. If you haven't been consuming the fruits of your labor in secret, perhaps the boss is a little farther away from laying you off in these hard times due to the ongoing appearances of your apple struedel at the office. In conclusion of our series, we give you Part 3 of Building Your Vegan Kitchen where we divulge the useful tools that make vegan baking more convenient, cost effective and fun.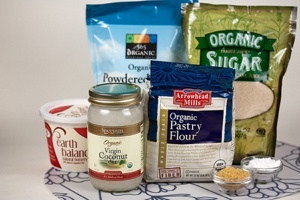 This is Part 2 of a 3 part series on how to get your kitchen dialed in for easy vegan baking. In
Part 1
we talked about essential cookware that we recommend to make things nice and easy. In this article we'll detail ingredients that will make your vegan baking adventures easier so you're not running to the store trying to find that one ingredient you forgot about at 1am.
Part 3
will detail specific tools that aren't necessities but are worthwhile additions to your vegan baking armory.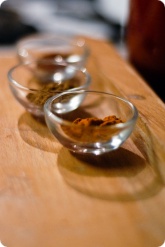 Mise en place, pronounced 'MEEZ ahn plahs', translates to "put in place". It means to have all your ingredients, cookware and your kitchen prepped and ready to go before doing your cooking or baking. With mise en place, recipes are reviewed and necessary ingredients and equipment are checked. Mise en place is used extensively in the food industry and is of equal importance to the recipe itself.
Mise in place is simply the act of just reading the directions, fully understanding and preparing yourself for the task you're about to do. If you bought furniture that needed to be assembled, you'd want to practice a variant of mise en place called "reading the directions first" for best results. You should get in the habit of mise en place every time you bake.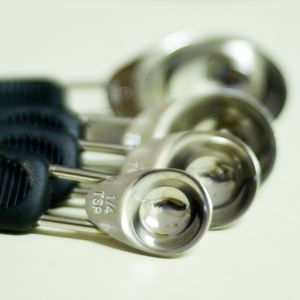 Making the decision to start vegan baking or to take it more seriously is a really good idea if I do say so myself. I'm warning you though- the more you get into vegan baking, the more you will get into vegan baking, until you do things like start vegan companies, build websites and write books. You have been warned. Things get much easier as you go along but one way to make things as easy and fun as possible is to pimp out your kitchen with the best tools and most useful ingredients. It's not that expensive I promise. This is Part 1 of a 3 part article on how to get that done.
This weekend my good friends are getting married in Palm Springs. I'm also taking advantage of this time off to go camping in Joshua Tree National Park and visit a friend in LA. In the past I've often grappled with the difficulty of running around trying to find nourishing food while traveling. There's nothing worse than needing something nourishing and not being able to find it as you slowly feel your body running out of energy. Enter The Vegan Survival Kit.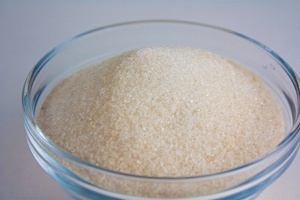 My particular view on sweeteners is that they are drugs that just so happen to be legal. Like many drugs, sugar isn't necessarily bad unless you consume too much. When you ingest sugar, it gets released into the bloodstream and your blood sugar level rises. Your pancreas then secretes insulin to stabilize this blood sugar level and excess much of the sugars get moved to the liver where it can be further processed or excreted with urine. The way in which your pancreas excretes insulin is called the insulin response and putting too much stress on it can wear it out. This can lead to things like weight gain and long term risks like diabetes and hypoglycemia if left unchecked.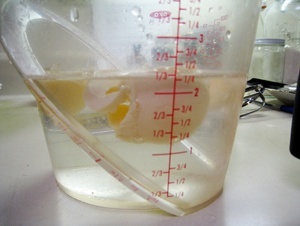 Scooping
Vegan Butter
or margarine out of a tub isn't that hard. What is hard is making sure the vegan butter is exactly the right quantity for your recipe. You can always melt the chunks then pour the margarine into a measuring cup. Sometimes you want to use unmelted or soft vegan butter so in these cases melting it is not an option. If you're measuring by the chunks you've scooped out with a spoon and compressed into a measuring cup you can be off by as much as a couple Tablespoons. When making things like pie crusts this can be the difference between success or failure.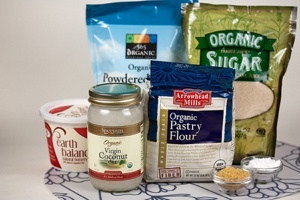 How in Samhain do you take eggs and butter out of baked goods and still make them taste good? The study of that is why this website was created. The internet already contains a ton of information regarding regular baking ingredients so I'm not going to touch on those. There are, however, various ingredients that have helped me in my baking. Here are some that work for me.