Classic Vegan Cheesecake

Mattie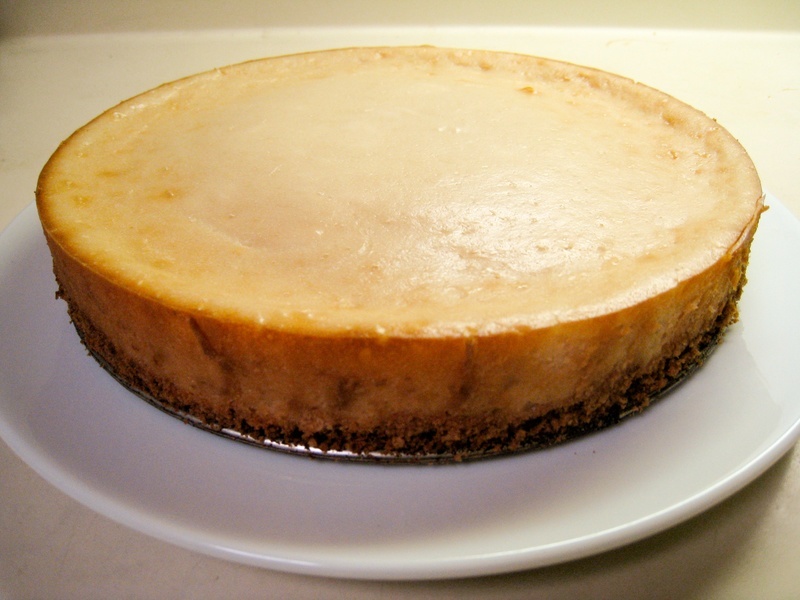 This is the classic vegan cheesecake recipe of dinner party legend. It relies on the amazing flavors of your favorite vegan cream cheese enhanced with a touch of non-dairy yogurt, non-dairy milk and just the right amount of flour for optimum flavor and texture. It's worth buying a spring form pan for.
Learn how I made
vegan cream cheese
.
Classic Vegan Cheesecake Recipe
1 ¼ cups graham cracker crumbs (about 10 crackers)
1 teaspoon cinnamon
1/3 cup
Vegan Butter
or non-hydrogenated margarine, melted
1 Tablespoon brown rice syrup
¾ cup, + 1 Tablespoon sugar
¾ cup plain non-dairy yogurt
¼ cup all-purpose flour
2 Tablespoons non-dairy milk
1 ½ teaspoons lemon juice
1 teaspoon vanilla extract
¼ teaspoon salt
24 oz Tofutti (or similar brand)
vegan cream cheese
(3, 8oz containers)
1) Break up the graham crackers
Break the graham crackers into small pieces and place them in a food processor or blender with the cinnamon. Pulse them until they are fine crumbs. Add the crumbs to a medium size mixing bowl.
2) Combine the Vegan Butter and brown rice syrup
In a small saucepan, whisk together the Vegan Butter and brown rice syrup on low heat until well combined.
3) Combine the ingredients to make the crust
Add the Vegan Butter mixture to the bowl containing the graham cracker crumbs and thoroughly hand mix with a fork until they are evenly saturated.
4) Compress the cheesecake crust into the spring form pan
If possible, turn an empty medium mixing bowl upside-down and place the spring form on top of it. This will allow you to compress the crumbs with greater force, without risking the spring form "popping" and ejecting all of your crumbs. Believe me, it's happened to me more than once. Being able to compress the crumbs more will make a better crust. Compress the crumbs into the bottom of a 9 inch spring form pan using the flat bottom of a drinking glass.
Learn more about Vegan Spring Form Crusts
.
5) Mix the flavor building ingredients
Preheat oven to 325F (163C). In a medium mixing bowl, mix together the sugar, non-dairy yogurt, all-purpose flour, non-dairy milk, lemon juice, vanilla extract and salt. Set aside.
6) Beat the vegan cream cheese and mix
In another medium mixing bowl, beat the imitation cream cheese until it's slightly fluffy. Mix in the sugar and non-dairy yogurt mixture from step 1. Beat the batter until it's smooth.
7) Transfer the mixture to a spring form pan
Pour the mixture into the 9 inch spring form pan. Jostle the spring form back and forth and side to side to get excess air bubbles to escape.
8) Bake your vegan cheesecake to perfection
Bake for 1 hour, 30 minutes. It is important not to open the oven or else the cheesecake will cave in. Let the cheesecake cool overnight.
9) Remove the cheesecake from the spring form pan
When the cheesecake has cooled, use a small knife to go around the edges carefully to free the remaining cheesecake from the spring form pan. Open up the spring form pan as far as you can and shake it slightly to get it to let go. Lift the spring form siding away. Place in the refrigerator. Top it with your favorite high-quality preserves, and enjoy! Store in a covered container at room temperature for about 1 week or in a freezer bag in the freezer for up to 6 months. This recipe makes one 9 inch Classic Vegan Cheesecake.
User reviews

caroline82
Top 500 Reviewer
View all my reviews (1)
Help!
I followed the instructions to making this cheesecake, but instead of putting it in a 9in spring form pan, I divided the recipe into smaller 4in spring form pans. When I baked them (1hr and 30min) the top of the cheesecake was the same color as your picture but when I cut it, the middle was all runny and liquidy.. not firm at all..
Please help!
Was this review helpful to you?
Best Ever
This was so easy to make and tastes just like the real thing! Great recipe!!
Was this review helpful to you?

Veganbaker
NASTY
It tasted like play dough if you added sugar and vanilla...
Was this review helpful to you?

Allison
Question
I plan on making this for my boyfriend's mother's birthday who can't have gluten, nuts, or dairy. If I substitute the all purpose flour for gluten free all purpose baking flour will that change the texture of this cheesecake? I'm just worried that the cheesecake won't set right being that there's no gluten to hold it together.
Was this review helpful to you?

Nick
Great but could be better
So I made a few variations of this cheesecake. The most important is to NOT use tofutti brand cream cheese. It's too thick and doesn't give a good cheese cake texture. I've seen a few others complain about that. I highly recommend trader joes brand as it's far more flavorful and much softer. That being said I cooked it for about 20 min longer to get excess moisture out. It had a nice brown top afterwards. Make sure to let it cool overnight. seconly I would add more fresh lemon juice, like double. Overall an amazing recipe though. Actually is better than typical cheese cake.
Was this review helpful to you?

Delisha MB.
OH MY GOODNESS!!
Hello! Thank you so much for sharing this recipe. I was dying to find a classic BAKED vegan cheesecake, most of the ones you can find are raw and I prefer this one better! But I have a question, do you have the nutrition facts?? I want to know how many calories are in the cake hahaha thank you!!
Was this review helpful to you?

soyouredatingavegan
Top 500 Reviewer
View all my reviews (1)
My non-vegan girlfriend was fooled
Thanks for this recipe. We made it on our YouTube cooking show and it turned out great! https://www.youtube.com/watch?v=3gVjKgqCQyU
Was this review helpful to you?
(Updated: April 25, 2015)
Wet when cooked too long ??
Hi !
I just tried this - I followed the "don't look till the time is up" rule (and my oven doesn't have an inside light), but when I pulled the cake out, there was some weird water-like spots that had come to the surface. I thought it was because I didn't bake it long enough, and put it back, and this time it was just soaking with water. :( I'll wait till is cools down to see if it's edible... Putting this here in case someone else had this problem, don't bake it more ! I would have preferred a sunk cake (cheating to check how it's doing) than the sort of wet puddle that came out :/
Was this review helpful to you?

cranialscratch
Top 500 Reviewer
View all my reviews (1)
Delicious
Thank you for bringing cheesecake back into my diet :) Delicious.
Was this review helpful to you?

Jody
Need more info
My daughter loves cheesecake but is allergic to all dairy and soy products including tofu and imitation cream cheese, that usually is made with soy and we eat mostly vegan. I would love to make this recipe. How can I replace the cream cheese part and not use anything soy or made in a facility that processes soy? The arrowroot powder at whole foods is usually Bob's Red Mill brand, which lists on every package that they process soy or dairy and soy in the plant so we can't use any of those products. It doesn't say on Amazon if the arrowroot powder that you suggest is processed with soy or on equipment with soy. Any insight?
Was this review helpful to you?

DVolckmann
Top 500 Reviewer
View all my reviews (1)
Not Vegan
How exactly does adding yogurt and milk make something vegan?

Need to rename your recipe.
Was this review helpful to you?
Question!!
I love love love this cheesecake so much! I've been making it for a couple of years now, but I seem to be doing something wrong. My cake never comes out as nicely as in the picture. It usually collapses, so I get a really dense, flat cake in the middle that goes up towards the edges. Also it always builds a weird skin that burns in the oven. Any idea what I'm doing wrong? Because this cake is still the greatest tasting thing in the world, but it never looks presentable.
Was this review helpful to you?
Great!
I love love love this cheesecake recipe! I always make it or adapt it for anything cheesecake related. The only problem i seem to have every single time I make it, is that it seems to collapse :( I always get a really dense, flat cake in the middle and then it always goes upwards towards the edges. Also the top always develops a skin and burns. Any ideas what I'm doing wrong, because its still the most gorgeous tasting thing in the world but it never looks presentable..
Was this review helpful to you?

HealthNut
Top 500 Reviewer
View all my reviews (1)
Chocolate
How do you suggest I make this into a chocolate cheesecake? If I add cocoa, would I need to add extra sugar?
Was this review helpful to you?

Maria
Hi Mattie,

I have a question, I was thinking if using your Cheesecake recipe combined with your Ultimate Brownies recipe to make pumpkin cheesecake brownies (I made your Ultimate Brownies before and they were one of the best things I'd ever baked! So I figured this would be the place to go for my next baking mission.) So, my question is, if I am adding pumpkin to the cheesecake mix, what else do you suggest I add so it doesn't end up too mushy? If this is too complicated, don't worry about it, I'll try leaving out the the soy milk and perhaps add less soy yogurt. Your cheesecake looks so beautiful, by the way. Will have to try that at some point! Thanks so much, Mattie! ~Maria
Was this review helpful to you?

Bulut
I'd love to try this bu i don't have access to vegan cream cheese or yogurt where I live. Would homemade cultured cashew cheese work in this?
Was this review helpful to you?

maryfarrell
Top 500 Reviewer
View all my reviews (1)
Hello Mattie!
First, thank you for this awesome website. I tried dozens of your recipes in the last couple of months and was very pleased. They are delicious and impressed most of my non vegan friends !
I didnt find a non dairy yogurt, what could I use instead for this cheesecake ?
Thanks !
Was this review helpful to you?

chrisFidler
Top 500 Reviewer
View all my reviews (1)
Its cooling now!
I made it, and the batter got 2 thumbs up in taste - it is cooling now for my husband to have tomorrow and it came out beautiful! I had one question - Have you ever double the recipe to make it higher? Or do you think it would cave in on itself??
Was this review helpful to you?

Steph
Awesome taste, texture and appearance. A winner!
Was this review helpful to you?
imitation cream cheese
I don't have easy access to any manufactured imitation cream cheese. Does anyone know of a way to make an imitation cream cheese that would work with this recipe?
Was this review helpful to you?

StaceyF
Is there a yogurt flavor preference? I'm thinking vanilla or lemon would work, but don't want to affect the overall taste.
Was this review helpful to you?
(Updated: January 05, 2012)

alyssahighfive
Top 500 Reviewer
View all my reviews (1)
Cheesecake
I think this is a great recipe, it is a little dense for my taste but over all it ended up fantastic. I would recommend using Toffutti Cream Cheese rather than Follow Your Heart. Also don't use Silk yogurt, it has too much of a "metal" taste, if that makes sense. I also reduced some blueberries on the stove for a nice reduction sauce and created a marble pattern. I ended up putting some on top in the end. I think the only problem I had was when baking it was still pretty jiggly and I wasn't sure if it was going to set up nicely but it did. One of my friends even said they couldn't taste the difference!!
Was this review helpful to you?
Cheesecake
When I was growing up, my step-mom made us birthday cheesecakes, and I looked forward to them every year. So, when I went vegetarian and eventually vegan, I missed the heck out of cheesecake. In an effort to re-live some of the cheesecakes of my youth, I tried making tofu versions, but they never turned out the way I hoped they would, specifically when it came to texture and flavor. Thankfully we have an option whose texture and flavor is so close to the dairy option that no one will know the difference. The other neat thing is that this recipe is pretty versatile and can be modified in ways that best suit you and your tastes. The versions I've made have included strawberry cheesecake, chocolate chip cheesecake, lemon cheesecake, and pumpkin cheesecake.
Was this review helpful to you?